Marquee's 2014 Emmys Predictions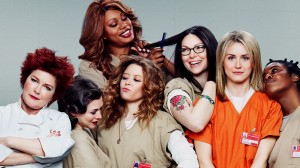 Best Comedy Series
The Big Bang Theory 
Louie 
Modern Family
Orange Is the New Black 
Silicon Valley
Veep
Should win: Although it's a non-traditional comedy in almost every way, "Orange Is the New Black's" story covers everything from race and class inequality to friendship and building communities, stories that feel appropriately revolutionary. Despite its accepted status as "not a comedy," "OITNB" is easily the best show in this bunch.
Will Win: Many Emmy pundits have claimed "Modern Family" will walk away with its fifth Emmy in five years, but "OITNB" has just as good a shot, if not a better one, shot at bringing Netflix its first best-series victory.
Best Drama Series
Breaking Bad 
Downton Abbey 
Game of Thrones
House of Cards
Mad Men 
True Detective
Should win: This year's race is clearly between "Breaking Bad" and "True Detective." Although Emmy voters could very easily go with the more-recently-aired and much-talked-about "True Detective," one of "Breaking Bad's" submission episodes, "Ozymandias" (also nominated for Outstanding Writing), is one of the best episodes of dramatic television. Ever.
Will win: Emmy voters won't soon forget "Breaking Bad's" intense series finale. The AMC hit will take home the statue.
Best Lead Drama Actor
Bryan Cranston, "Breaking Bad"
Jeff Daniels, "The Newsroom"
Jon Hamm, "Mad Men"
Woody Harrelson, "True Detective"
Matthew McConaughey, "True Detective"
Kevin Spacey, "House of Cards"
Should win: With such a strong category this year, it's possible to see Cranston, Hamm, Harrelson or McConaughey winning.
Will win: McConaughey, with his (probably) short-lived, albeit harrowing appearance on the small screen, will win. His potential victory could also be a compelling end to the "movie star moves to TV" narrative, an interesting commentary on the talent and content of stories that are taking over television.
Best Lead Drama Actress
Lizzy Caplan, "Masters of Sex"
Claire Danes, "Homeland"
Michelle Dockery, "Downton Abbey"
Julianna Margulies, "The Good Wife"
Kerry Washington, "Scandal"
Robin Wright, "House of Cards"
Should win: In a category with snubs like Tatiana Maslany, Keri Russell, Vera Farmiga and Elizabeth Moss, there is no clear winner here. However, Lizzy Caplan's engaging portrayal of Virginia Johnson in "Masters of Sex," a character that should, by all accounts, be impossible to play complexly and convincingly the way Caplan does, is the best choice.
Will win: With such competent women in the running, the final decision could go many ways. Danes won the last two years, so a win for Robin Wright or Juliana Margulies seems more likely. The best bet would be Caplan or Washington, who would be the first African American woman to win in this category.
Best Lead Comedy Actor
Louis C.K., "Louie"
Don Cheadle, "House of Lies"
Ricky Gervais, "Derek"
Matt LeBlanc, "Episodes"
William H. Macy, "Shameless"
Jim Parsons, "The Big Bang Theory"
Should win: Since the talent from these nominees is lacking in a way that the lead drama actor category is not, this race will likely come down to Jim Parsons and Louis C. K. With the range of dramatic acting Louis demonstrated throughout the season, mixed with the genuine laughs produced by his submission episode, "Model," Louis seems like the better choice of the two.
Will win: With a field lacking any clear standouts, sometimes the best way to standout to Emmy voters is to already have won an Emmy. In this case, Parsons takes it home.
Best Lead Comedy Actress
Lena Dunham, "Girls"
Edie Falco, "Nurse Jackie"
Julia Louis-Dreyfus, "Veep"
Melissa McCarthy, "Mike & Molly"
Amy Poehler, "Parks and Recreation"
Taylor Schilling, "Orange Is the New Black"
Should win: Julia Louis-Dreyfus and her excellent work on "Veep" this year will almost certainly take the Emmy home, her only possible competition being Taylor Schilling of "OITNB."
Will Win: Unless Emmy voters are going all in with "OITNB" this year, Louis-Dreyfus is the clear winner.
Leave a Comment