Wojo settling in as he enters third month at Marquette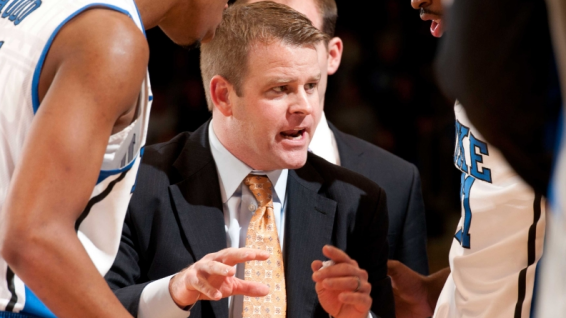 It was a busy first 59 days for newly hired men's basketball head coach Steve Wojciechowski, a period he described as a whirlwind, but despite it all, Wojciechowski said his passion and expectations for his new program expanded since arriving in Milwaukee April 1.
"It's been terrific," Wojciechowski said during a press conference at the Al McGuire Center Thursday. "Obviously I've had high expectations and the ultimate belief in the program when I took the job and that has only grown since I've been here."
The 17th head coach in school history addressed the media Thursday to give an update on team workouts, recruiting and how he is personally settling into his new environment. One thing Wojciechowski emphasized in his press conference was his team's ability to adapt to his style and structure.
"The kids who are in the program right now have embraced my staff and I, and I've been impressed with their capacity to work, their willingness to embrace change and the excitement and enthusiasm has been terrific," Wojciechowski said.
The new staff is allowed to work with the team eight weeks during the summer, which is broken up into two four-week periods with two summer school sessions in between. Wojciechowski said the emphasis during the offseason is individual player development.
"The best way to develop a relationship with a player is working with them on the court, being hands-on and trying to teach them," Wojciechowski said. "The benefit is you get to really know a guy when he's on the court."
The only two players who will not be participating in the first summer workout session are BYU transfer Matt Carlino and incoming recruit Sandy Cohen.
One of Wojciechowski's biggest tasks in his first offseason at Marquette was trying to retain the recruiting class former head coach Buzz Williams assembled. Several players back out of their commitment to Marquette, though, and Cohen is the only recruit from Williams' class who chose to stick with the Golden Eagles.
"Obviously the kids signed with Coach Williams and Marquette, but the relationship was primarily with Coach Williams," Wojciechowski said. "In most cases, those kids don't stay. That's not unique to Marquette, it's pretty much standard across the country. I don't want guys at Marquette who don't want to be at Marquette. If I have to twist your arm or promise you stuff to get you to put that jersey on, then I don't believe that's the right fit."
Wojciechowski did not mention any specific unsigned recruits or walk-on players who he is pursuing and added that he is content with the current roster.
While this is Wojciechowski's first head coaching gig, he said his experience working with Mike Krzyzewski at Duke was helpful in transitioning into the day-to-day obligations as the face of a program.
"There's some days where it's like 'Wow, this is pretty big,'" Wojciechowski said. "But I was intimately involved in all of (Krzyzewski's) decisions at Duke, so I think I am really well-prepared."
One player who was mentioned in Wojciechowski's press conference was red-shirt guard Duane Wilson, who missed his entire freshman season with a stress fracture in his left leg. Wojciechowski confirmed that Wilson is healthy and complimented his love for the game and work ethic.
"I really like Duane a lot," Wojciechowski said. "I think he has great potential and I think he's a really good player right now with room to improve. I like his spirit. I like the fact that he loves being in the gym and he's a guy who I think will have an impact on our team this year and will be a big part of our program."
Wojciechowski is taking over a Golden Eagles squad that was considered a disappointment in 2013. The team was widely-regarded as the best in the Big East conference before the season started, but it failed to make any postseason tournament, finishing sixth in the conference. He said, however, he was excited by his team's ability to overcome a rough 2013 campaign.
"The primary thing I'm excited about is that they've shown up everyday with an attitude and a desire to improve," Wojciechowski said. "If we can do that, I think the other things will take care of itself."
Leave a Comment