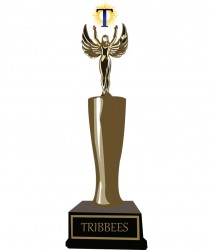 The Marquette Tribune would like to recognize some of the groups and individuals that have made a significant impact on the community this year with its first Tribbee Awards, a way of exhibiting the most outstanding gears that keep the university running.
Contributions to the collective success of Marquette have come from all corners of campus: professors, students, staff, alumni and student organizations were nominated by readers for each of four categories. Through research, teaching, collaboration and hands-on service, these groups and individuals have taken an approach to their work that reaches above and beyond what is required of them.
The university, after all, is just a sum of its parts. We hope Marquette will continue to pursue the types of service embodied by our winners, work that promotes the intellectual growth of the university while striving to leave a mark in Milwaukee and beyond.
Most Engaging Instructor of the Year
Jeff Snell
Founder of Marquette's Social Innovation Initiative (SII), Jeff Snell used nontraditional instruction techniques to teach students how to apply social innovation to their careers.
In addition to Snell's service accomplishments through SII – the establishment of a social innovation partnership with the New York Times and recognition as an AshokaU ChangeMaker Campus among them – he also taught a seminar for Marquette's Honors Program, "How to Change The World: Social Entrepreneurship." The course combined traditional class discussions and readings with fieldwork to teach students how to work toward innovative social practices.
Snell engaged students in a discipline that extended regular class instruction beyond the classroom. Despite his departure as a part of university layoffs in February, Snell's work with the Honors Program set a precedent for the potential future inclusion of social innovation into Marquette's core curriculum.
Student Organization of the Year
Humanoid Engineering and Intelligent Robotics (HEIR) Lab
The remarkable research efforts of Marquette's Humanoid Engineering and Intelligent Robotics (HEIR) Lab combined modern engineering tools and crowd sourced fundraising to create a highly successful student organization this year.
Established as part of Marquette's Social Innovation Initiative, the HEIR lab engineering team is designing low-cost humanoid robots that can act as motivational health and exercise coaches with children and adults. This year, HEIR used 3D printing technology to design and build a three-foot tall robot named MU-L8 – an effort that qualified the group for RoboCup 2014, a two-on-two robotic soccer competition taking place in Brazil. The team is directed by Andrew Williams, a professor of electrical and computer engineering.
Honorable Mention: MARDI GRAS
In addition to MARDI GRAS's four annual service trips to New Orleans, some of which take close to 100 Marquette students to rebuild homes and form community connections, the group also led a trip to New York this year to work with students from St. John's University on Hurricane Sandy relief efforts. Eight years after the group was formed, MARDI GRAS's impact and level of student participation remains strong.
Significant Service Contribution of the Year
Brittany White
Brittany White, a junior in the College of Arts & Sciences, has combined skills from her studies in social welfare and justice and writing-intensive English to make service contributions across a wide range of student groups and organizations in Milwaukee.
White teaches a creative writing class once per week at the Repairers of the Breach Center, a shelter and resource center for homeless adults on Milwaukee's north side. She spends another night at the center every week for community building activities and listening to stories told by Milwaukee's homeless.
With student organizations, White led a M.A.P. trip to Kansas City where five students worked with a transitional housing program at reStart, Inc. this year. She is a retreat leader for Campus Ministry and a member of the leadership team for Campus Kitchen, where she leads a cooking shift two nights per week. She is a program assistant for Marquette's Center for Community Service, has been a co-coordinator for Hunger Clean-Up and also works on Midnight Run.
Honorable Mention: Marquette Facilities Services Grounds and Trucking Departments
Facilities Services dealt with particularly harsh weather this winter, putting in extra time and effort to keep campus walkways clear of ice and snow. Jerry Sormrude, a staff member for Marquette Custodial Services, said these two departments as well as volunteers from other branches of Facilities Services spent at least 12 weekends on campus in addition to their regular hours.
Significant Research Contribution of the Year
Marquette University Spacecraft Engineering 
Established in 2011, Marquette University Spacecraft Engineering (MUSE)'s research reached a high point with approval from NASA's CubeSat Launch Initiative and a plan to send the satellite into orbit for about three months to snap photos of the earth.
Research for the MUSE project has come from all corners of campus. The team of students comes from a wide range of studies, including computer science, anthropology and finance. Around 60 students have contributed to the research project alongside Robert Bishop, dean of the College of Engineering.
Work on the satellite, named Golden Eagle 1, began in 2010. It involved the building of the cube itself and the design of communication software to be sent onboard the satellite. The result of MUSE's research is a three-pound, 10-centimeter cube with two cameras that is expected to launch in spring 2015.
Honorable Mention: John McAdams
Professor of political science John McAdams has spent much of his career analyzing and debunking the many theories surrounding the assassination of President John F. Kennedy. Fifty years after Kennedy's assassination, McAdam's comprehensive work has been recognized in TIME magazine and is among the most highly regarded academic research on the subject.
Story continues below advertisement