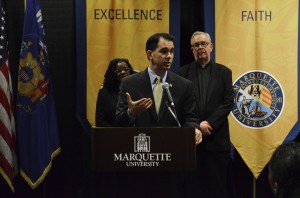 Gov. Scott Walker is rumored to be interested in running for president in 2016, but he may be running back to class before vying for the White House.
Walker, who studied political science, economics and philosophy at Marquette from 1988-1990 before leaving early, could possibly use the University of Wisconsin System's new Flexible Option Degree Program to finish his degree.
According to PolitiFact Wisconsin, Walker was 34 credits short of graduating when he left in 1990.
"The reason I went to college, in large part, was not just to get an education for an education's sake, but to get a job," Walker said to reporters in a meeting hosted by the National Review. "I always thought I'd get back and I may still do. Someday, maybe in the next few years, I'll embark on finishing my degree."
Julia Azari, a professor of political science, said that Walker's lack of a degree could be exposed during a presidential campaign, but could also be a risk for those who bring it to light.
"It's an easy mark for opponents, especially since the circumstances under which Walker left Marquette without a degree remain somewhat mysterious," Azari said in an email.
Those circumstances, according to PolitiFact, stem from a 1988 student president election that Walker, a sophomore at the time, lost to John Quigley. Walker was hired part-time by IBM shortly after losing the election and in February of 1990, he was hired by the Greater Milwaukee chapter of the American Red Cross and left Marquette just months later.
Azari said pointing out Walker's lack of a college degree could actually make his opponents look "petty, mean and elitist." She said even if his opponents took that risk and did bring it up, it might not have a negative impact.
"Even if a narrative emerged that Walker isn't much of an intellectual, that doesn't seem to hurt presidential candidates," Azari said. "People wanted to have a beer with George W. Bush. Obama has been criticized for being too intellectual. If Walker can establish himself as someone with practical knowledge about governing, it may not be much of an issue."
"There exists a strain of right-wing populism that specifically rejects elite intellectual life," she continued. "Sarah Palin recently criticized Obama because he 'ruminates and bloviates,' the implication is that real leaders follow their gut instinct and don't sit around reading Nietzsche."
Harry Truman, who served as the 33rd president from 1945-1953, was the last president to not have a college degree.