MU to host co-ed floor in Straz next fall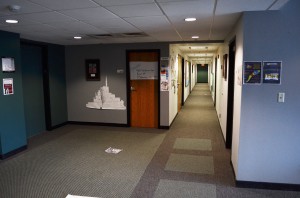 Marquette will host a co-ed residence floor next fall, reserved for sophomores in the Dorothy Day program located in David Straz Tower.
James McMahon, dean of residence life who leads the Dorothy Day program, said the decision to consolidate participants into one floor was made because the program, which is entering its fifth year, could not attract the amount of students it has in years past. Next fall will house 24 students in the program, which is considerably lower than the targeted population of 44.
"We make a commitment with these living-learning programs that nobody who is not apart of the program will live on the floor," McMahon said. "It has become harder to fill those spaces and we've got a number of open spaces this year. We need to work hard to make sure that we fill those rooms because we cannot afford to have empty spaces across the system."
McMahon said it was unrealistic to cut down applicants and house them on separate floors because it secludes the students in the program who are supposed to be part of a living-learning community.
"If we split them between two floors, then we have at least half of a floor on each of those with people that aren't part of the program and that doesn't work well," McMahon said.
He also said Straz makes the most sense for co-ed floor because of its design.
"I think it's a very doable solution for us," McMahon said. "It works in Straz because each of the rooms have a private bath and the floors are divided pretty nicely into two wings."
The decision to create the co-ed floor was mainly McMahon's, but he said the administration did not bring up any resistance to the situation. McMahon said he thinks this new style of residence life will work because of the type of students who will inhabit the floor.
"These are all sophomore students who are all very carefully chosen," he said. "They have to apply and many of them are interviewed. It's a very different set of students. I wouldn't do this if anybody could sign up for the floor."
McMahon said the incoming students for the inaugural co-ed floor were notified about the change and added that none of the students had a problem with it. He said he hopes this decision will help the Dorothy Day students to develop into a stronger group and he does not see any issues arising with it.
"I think it'll be a non-issue," McMahon said. "I think it will be the same that it was when we had split floors. One expectation is that it will bring men and women that are part of the program closer together in community. My expectation is that it will improve the experience and it will work just fine."
He also emphasized this co-ed floor is not being considered for any other dorms and added it would only be considered if another living-learning community was created on campus.
Editor's note: This story originally said the co-ed floor in Straz Tower would be the first co-ed floor Marquette has ever hosted. 
Leave a Comment