The Living Statues is 'Knockin" on Hollywood's door
The answer to the most commonly asked questions college graduates receive – "So, where are you working after graduation?" – usually involves a 9-to-5 desk job. But for the members of Milwaukee rock band, The Living Statues, what they do after 5 p.m. is top priority.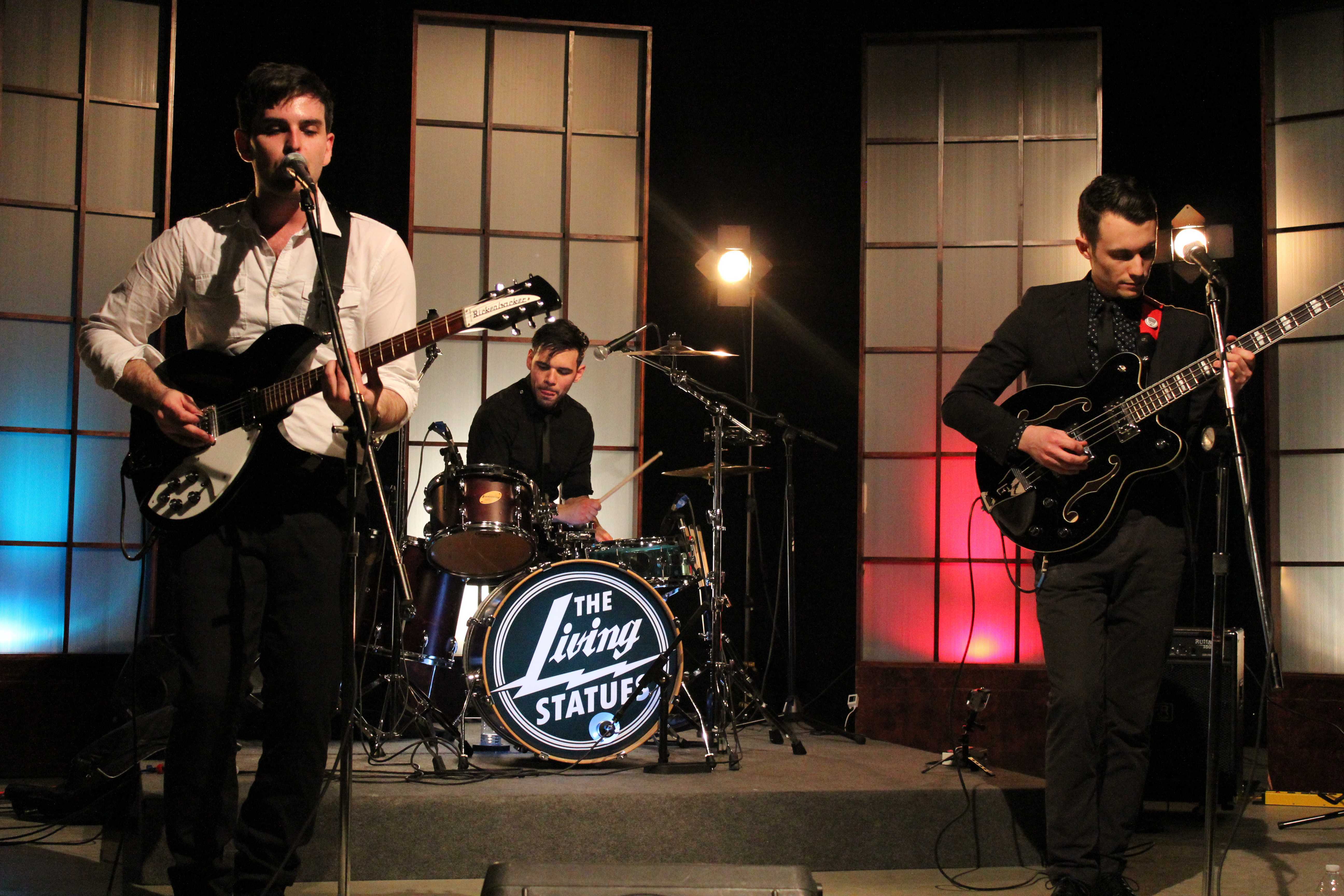 The three-piece band includes Marquette graduates Chris Morales, 2012, on drums and Alex Thornburg, 2013, on bass and University of Wisconsin-Madison graduate Tommy Shears as lead singer and guitarist. All three have daytime jobs, but use their free time to pursue their music industry dreams.
"Aside from the whole music thing, we all have big boy jobs," said Morales, who works in a laboratory doing research with rodents. "It's not necessarily glamorous, but (we) need to get something to pay off the loans for this damn school."
"I'm a traffic engineer by day and rock star and all that other garbage by night," Thornburg said. "Almost like Batman, but not close enough."
While being a rock star and "all that other garbage" may seem like a hobby to some, it's just as important to the musicians as their livelihoods.
"It's like having two full time jobs, isn't it?" Shears asked. "All my free time, my lunch hours, I spend working on music, and I have a soundproof room in our office, a video studio no one uses over lunch … Not much room for sleep, but I wouldn't call it a problem at all."
The band started with Morales and Shears, who played together and worked on music while shuttling back and forth between Madison and Milwaukee. When they brought in Thornburg for a rehearsal, The Living Statues was born.
"The chemistry was just combusting," Morales said. "It was amazing … so really since the beginning of 2012, we have been the three-piece band known as The Living Statues."
"We have two hometowns pretty much," Shears said. "They showed me Milwaukee, and I showed them Madison."
Since then, the trio worked to the release of its first EP, "Knockin'," which comes out Tuesday. The group started playing small venues and built up a reputation before grabbing the attention of professional managers.

"For a Madison musician, you start at the bars with open mics," Shears explained. "You move up, you know. It's like levels of guitar hero, and The Majestic is the top one, where we opened (for Mayer Hawthorne) … And after (The Majestic), Mayer Hawthorne's management contacted me and said, 'We've been hearing great things. When are you playing next?' and flew out two weeks later to watch us play some shitty bar show and loved us. (Then he) flew us out to L.A. over the summer."
After that, the group traveled to New York to record its EP at Converse Rubber Track Studios in Brooklyn, where it received free recording time.
"We really hit it hard and did it as fast as we could but without hitting any corners," Thornburg said. "It was nice to collaborate with the sound engineer. You want conflict between people to get to a final product."
Thornburg said the EP's sound is "energetic, gritty and raw."
"There's a clean cut to it but … you don't want to be just a bunch of working stiffs on stage," he said. "You wanna get girls to dance."
In traditional rock fashion, the EP also gets loud. To avoid noise complaints, the band travels out to the suburbs for rehearsals.
"We actually rehearse at my parent's place about 45 minutes out of Milwaukee so we don't get the cops called on us," Shears said. "(My parents) are 100 percent supportive of us."

For the band, the "big boy jobs" are the means to a musical end – a full-time music career that starts with the release of "Knockin'." The ambitions to make it big and go on tour actually inspired Shears to come up with the band's name.
"Well, you know, statues are made of dead heroes, and we are going to hit that level of glory, but we're not dead yet, but when we pass on, we'll be carved into stone," Shears said.
It may come across as bravado, but to Shears, it represents the level of commitment he and his fellow members have to the band.
"If you're not shooting for the stars, like, why are you doing it at all?" he said. "If you don't want to be the best at what you do, why are you wasting your time?"
The band members said they are ready to go on tour and push their EP as far as it will take them.
"At some point, hopefully in the next year, we will have to say goodbye to those big boy jobs in pursuit of something bigger, grander, that we really love doing," Morales said.
The Living Statues' release show for "Knockin'" is at The Exclusive Company at 7 p.m. Saturday.
Leave a Comment