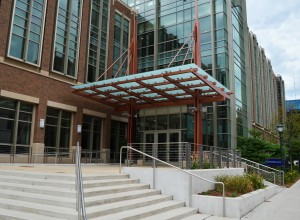 Marquette's College of Engineering was ranked 140th out of 193 schools by U.S. News & World Report's annual graduate school rankings released last week.
Other engineering rankings included individual programs, which ranked Marquette's biomedical engineering program 53rd and the civil engineering program 99th, the first time the program was ranked in the top 100.
Robert Bishop, dean of the College of Engineering, said he believes the rankings are a good indication of the growth and improvement of the college and its programs.
"We are very proud to be among the top engineering programs in the country," Bishop said in an email. "Keeping in mind that there are approximately 350 engineering programs, we are extremely happy that our college engineering graduate program is in the top half."
Part of Marquette's strategic plan calls for the university to rank in the top quarter of U.S. News' overall school rankings. Marquette is currently tied at number 75 with American University, Baylor University, Clark University, Indiana University, Miami University and the University of Delaware.
Andy Brodzeller, the associate director of university communication, said Marquette appreciates the rankings and the good publicity, but they are not what the university focuses on entirely.
"Marquette's strategic plan clearly states we want to be recognized as one of the most innovative and accomplished Catholic universities in the country," he said in an email. "That reputation is not simply recognized by rankings, but through the various ways people encounter Marquette students, faculty, staff and alumni, which I believe are more impactful."
Though these rankings can be a large part of prospective students' research into potential schools, they are often the subject of skepticism due to the ranking's criteria.
U.S. News & World Report asks schools to send it the data used in the rankings, and so there is concern that some schools submit false data or focus just on the areas needed to improve their rank. Still, many at Marquette believe they offer some merit.
"The metrics used in generating these rankings will forever be scrutinized and criticized," said Christopher Foley, professor and chairman of civil, construction and environmental engineering. "Our desire to maintain the highest quality undergraduate and graduate educational programs is not defined by these ranking bodies, but having what we do recognized by these rankings is valuable to our degree programs at both the undergraduate and graduate levels."
Despite the administration's stated desire to place high in the rankings, the university says its focus is mainly on providing its students a quality education.
"We are not going to change how we educate engineers just to please rankings groups," said Lars Olson, the interim chair of the Department of Biomedical Engineering. "Our goal is to make the best biomedical engineers in the country without regard to these rankings.  If there is a way to do well and help our rankings, we would look into that.  In general, though, we are focused on excellence in engineering, not just rankings."