Overall crime down in Milwaukee, violent crime rises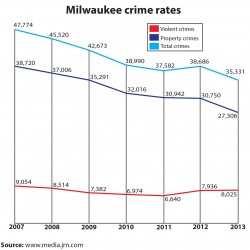 The Milwaukee Police Department's 2013 crime statistics report offered mixed results, showing a decrease in overall crime but an increase in violent crime, but the Department of Public Safety is taking precaution regardless of interpretation.
According to MPD's 2013 crime statistics report, overall crime fell 8.7 percent from 2012, and 26 percent compared to 2007. Violent crime, which includes homicide, forcible rape, aggravated assault and robbery increased slightly at 1.1 percent compared to 2012, though it is down 11.4 percent since 2007.
Property crime, which includes burglary, theft, auto theft and arson decreased 11.2 percent compared to 2012 and is down 29.5 percent since 2007.
The decline amounts to an overall decrease of 47,861 fewer crime victims over the past seven years.
Russell Shaw, the interim director for DPS, said although DPS has set patrol areas, officers are made aware of rises in crime. He added that DPS patrols in sectors, and putting more officers in one area takes away from officers in another area.
"We really can't treat a rise in crime all that much different because we only patrol one square mile off of campus," Shaw said. "So it's too small of an area to all of a sudden say 'something happened at 14th and Kilbourn,' two nights in a row, that's not enough to put more officers there."
Shaw added that if necessary, he will reach out to MPD regarding crime issues, and that he is happy with the relationship DPS has with MPD.
"If we really have an issue, for instance with strong arm robberies or cell phone theft, we certainly will reach out to MPD," Shaw said. "MPD certainly is aware of what's going on with us because they receive our morning reports every day."
David McCallops, a sophomore in the College of Business Administration, said that no matter what kind of spike there may be in crime, he always feels safe, not only on campus, but in the city as a whole.
"I feel completely safe," McCallops said. "DPS is pretty much a (legitimate) police force and between the constant patrols and officers working the dorm desks at night, I feel safe. You can barely turn a corner on campus without seeing DPS."
MPD Public Information Officer Lt. Mark Stanmeyer said in an email MPD uses data-driven information to refine its practices and uses data from its reports in order to be more efficient.
After the first six months of 2013, homicides were on pace for one of the lowest annual totals in years, but an unusually violent August and September accounted for nearly a third of all homicides in Milwaukee.
This pushed the total to 105, which was the same number as 2007, and an increase of 14 incidents over 2012
"We were frustrated as the rest of the community was with the increase in violent crime in 2013 over 2012," Milwaukee Police Chief Edward Flynn said in a statement. "Although we were gratified by the impact our data-driven strategies had during the last few months of the year, they could not undo the harm that had already been done."
Leave a Comment