Lecture on sexual violence encourages action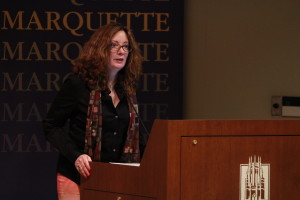 Thursday's "Global Echoes of Rape and Resistance" lecture by Linda Alcoff, a 2013-14 Ralph H. Metcalfe Chair, invited the Marquette community to consider taking action against unjust treatment of sexual violence victims.
A 38-member audience, comprised of Marquette students and faculty, came out to see Alcoff, a professor of philosophy at Hunter College in New York and the City University of New York's Graduate Center. Her lecture included examples of sexual violence victims who she said had their stories overly simplified by American media, which can lead to victim blaming.
"In some cases victims speak for themselves, in others they're spoken for," Alcoff said. "This happens in a variety of ways. It's clear that in this era of global media, each new public case (of sexual violence) reverberates with the echoes of others."
Alcoff said she encourages victims to share their stories, which are the main instigating force in cases of sexual violence. She then cautioned media-consumers to be weary of the media twisting victims often experience.
"The most important aspect is the concept of listening and not posing anything upon victims (of sexual assault,)" said Andrew Thompson, lecture attendee and a junior in the College of Arts & Sciences.
In addition, Alcoff suggested practices for addressing the complexities involved with sexual violence and rape, such as thinking about sexual violence as a global problem, not just a cultural or individual aspect. She noted the American public's tendency to only look at sexual violence in a legal context.
"Courts have highly circumscribed procedures of speaking and hearing and the goal of United States courts is to establish individual culpability, that's the only aim, it's not to achieve an understanding of the problem or make social change," Alcoff said. "We need to allow for a domain of public discussion and discourse (about sexual violence) in which it is not reducible to the court venue."
The concept of "echoing," a way of repeating individual acts so they can create resistance movements, was also discussed. Alcoff noticed echoing has been used in negative ways, such as portraying rape victims as mentally tainted and therefore not credible to speak on issues of sexual violence.
"If you have a dramatic experience it may impact your judgment and perception," Alcoff said. "But victims may have epistemic advantages from their experience."
Leave a Comment