Must-listen songs for spring 2014
The temperature may only reach 45 degrees today, but after that brutal Milwaukee winter, anything above the freezing point is fine by us. Celebrate the long-anticipated arrival of spring with these happy, sunny songs courtesy of Marquee.
Here Comes the Sun – The Beatles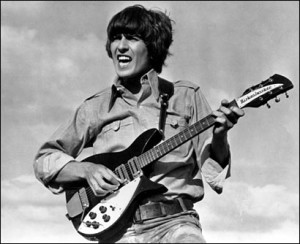 One spring day in 1969, George Harrison and Eric Clapton were casually sitting outside enjoying the scenery and bright sunshine when a melody popped into Harrison's head. He grabbed one of Clapton's guitars and immediately wrote what would become one of the Beatles' most recognized songs. "Here Comes the Sun" properly captures the lively spring spirit as well as the sentiment of most Marquette students subjected to the polar vortex. It really does feel like years since the sun has been here.
I Can See Clearly Now – Johnny Nash
The rain may have impaired Johnny Nash's vision, but Milwaukee residents had to walk and drive through intense snowstorms with minimal visibility this past winter. Now that most of the snow is melted (knock on wood), the chances of walking to class shielding your eyes from sharp, cold wind also decrease. Maybe we'll even see one of those rainbows Nash has been praying for before summer vacation.
U2 certainly has a way of taking seemingly ordinary topics and turning them into poetic compositions. "Beautiful Day" is no exception. Even through life's everyday trials, like traffic jams and struggling to find an apartment to rent, it's important to stop and take in the beauty around you. That's even easier to do when there's no snow clouds to block your vision.
Keep Your Head Up – Andy Grammer 
While spring brings the promise of warm weather and clear skies, it also means finals will be here before we know it. That may put a damper on the cheery mood you have felt until reaching this point in the playlist, but never fear: Andy Grammer's optimistic tune will keep you focused on the positive side of spring. That 10-page paper will get done eventually, right?
This new season isn't only changing the weather. Spring has a way of instantaneously improving everyone's mood, including Patti LaBelle. She may not have been singing about spring specifically, but her empowering song does make a fitting theme for this time known for personal growth. New dress, new ideas and new point of view? We want some of that 'tude.
Leave a Comment