Mardi Gras in Milwaukee
While we wish we were in Brazil or New Orleans to celebrate Mardi Gras, Milwaukee isn't completely devoid of ways to take part in the festivities. Whether you're checking out some of Milwaukee's best Cajun-style cooking or the liveliest Mardi Gras party, Marquee compiled the best restaurants and events that make Milwaukee feel a little bit closer to the equator for Fat Tuesday.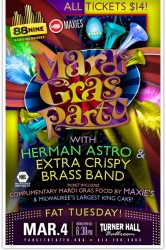 Food to Eat
Maxie's Southern Comfort, 6742 W. Fairview Ave.
Maxie's will open at 2 p.m. Fat Tuesday to give customers the entire day to feast.
"Mardi Gras and New Orleans is what this restaurant is all about," said Peter Centinario, manager of Maxie's. "We like to have special, little events to celebrate. But obviously, the most important aspect of the day is the food. Gumbo practically runs in our veins."
Maxie's will offer a special Mardi Gras menu including: po-boy sandwiches, Italian-style muffuletta sandwiches, regular and duck gumbo and, for a little extra kick, frog legs.
"The frog legs are just an interesting special on the menu that people always like to try," Centinario said. "Of course we will have our popular oyster bar open all week as well. It's always a fan favorite."
Maxie's will serve $5 hurricanes as well as $4 Abita beers, which are directly from the Abita Brewery located in New Orleans. A RadioMilwaukee DJ will start music at 2 p.m. with rhythm and blues band, The Uptown Savages, performing at 6 p.m.
"Truthfully, we never know what time we're closing on Tuesday night during Mardi Gras," Centinario said. "Our schedule says we close at 10 p.m., but if people are having fun and want to stay, we'll keep the lights on."
Fishbone's Cajun and Creole, 1704 Milwaukee St. in Delafield
Fishbone's Cajun and Creole Restaurant starts the Fat Tuesday experience off right with Mardi Gras beads at the door, a traditional New Orleans greeting. After a specialty martini or hurricane and some popular New Orleans-style food, you can almost hear the buzz of excitement on the Louisiana streets.
"We do a variety of things to our menu for Mardi Gras," said Jessie Souza, head chef and co-owner of Fishbone. "I spend a lot of time perfecting and working on the menu for Fat Tuesday. It's a day our restaurant does really well."
The special menu starts off with a bayou shrimp appetizer, tossed with cornmeal Cajun seasoning and cooked in an onion rum sauce. Entrees include red fish blackened in a traditional Cajun maque choux sauce, Fishbone's personalized mojo chicken, southern-style ribs, alligator chili and homemade cornbread.  Bread pudding topped with a pecan sauce and a special caramel fudge will be served for dessert.
"The menu is really specially customized for Mardi Gras," Souza said. "It has a lot of unique flavors and is true to the New Orleans style of cooking."
National Bakery and Deli, 3200 S. 16th St.
It wouldn't be Mardi Gras without some paczki, traditional jelly-filled Polish doughnuts (pronounced poon-shkees for those of you ordering over the phone), served by National Bakery and Deli Fat Tuesday.
"We usually cook, on average, from 30,000 to 45,000 paczkis every year for Fat Tuesday," said Adriana Chessman, an employee at National Bakery and Deli. "We usually sell just about all of them during Fat Tuesday alone."
Of course Polish bakeries have paczkis available for sale every time of year, but for Fat Tuesday, they make the jelly-filled goodness with a special butter dough rather than the traditional dough.
"It's definitely all about the butter dough that makes the paczkis so delicious during Fat Tuesday," Chessman said. "We have a line going out the door for just about the entire day."
The National Bakery and Deli will also serve its regular variety of cupcakes, cookies, cakes and sandwiches between 6:30 a.m. and 5 p.m.
If you don't feel like leaving campus for paczki, the Marquette chapter of the Knights of Columbus will sell the desserts in Lalumiere Hall from 8 a.m. to 12 p.m. The flavors include chocolate frosting with a custard filling, white frosting with a raspberry filling, and cherry.
Places to Go
Potowatomi Bingo and Casino
Potawatomi Bingo and Casino has celebrated Mardi Gras for years, and will continue the tradition Tuesday, amplifying all the bells and whistles of the casino's already well-known entertainment for the decadent celebration.
The most prominent and appropriate event is the parade that will trail periodically through the casino, bringing the chaos of the New Orleans streets to the slot machines of Potawatomi.
Guests enchanted by magic can consult the tarot card and palm readers stationed throughout the casino to determine their divine fortunes. However, it's doubtful whether they can warn anyone of the vast sums of money they are about to lose at the card tables and bingo. For the not-so-superstitious, a caricature artist will also be on hand. In any case, the casino is for anyone ready to blow off midterms and unable to make it down to Louisiana for the actual Mardi Gras party.
88Nine RadioMilwaukee Mardi Gras Party
88Nine RadioMilwaukee will host its fourth annual Mardi Gras extravaganza Tuesday at the Turner Hall Ballroom. For $14, guests can expect an abundance of beads and costumes. This year's party will feature the Extra Crispy Brass Band. The seven-piece, New Orleans-style band, formerly known as "The Polyester Playboys," includes trumpeters, saxophone and trombone players, drummers and vocalists.
Alternative soul group Herman Astro will also perform. The music from these four local musicians is a mix of blues, soul and rock. Their song, "Sambawete," was named 88.9 Radio Milwaukee's Catchiest Song of the Year in 2009.
RadioMilwaukee is also stepping up its game with Milwaukee's largest King Cake. Maxie's Southern Comfort will cater the event.
Leave a Comment