Offense struggles in loss to Ohio State
Hang on for a minute...we're trying to find some more stories you might like.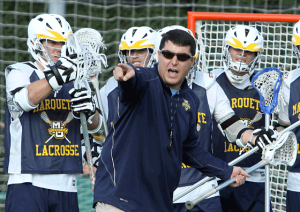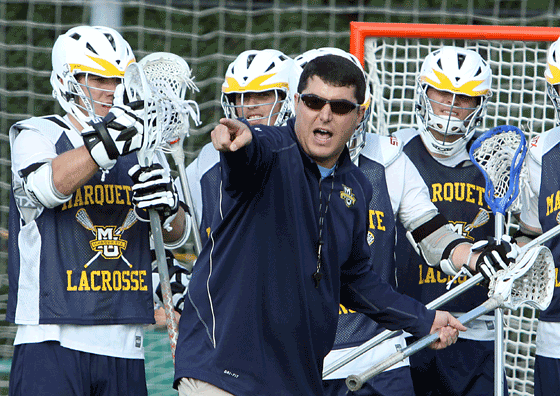 A little over a year ago, the men's lacrosse team fell to Ohio State 18-8 in the program's first game ever. This year, the team struggled again, falling 11-7.
Both teams made plenty of turnovers, mostly unforced, and the play was sloppy.
"Both teams didn't play well," coach Joe Amplo said. "Ohio State played well enough to win, but I think their bad was better than our bad on that day."
Marquette struck first Saturday when redshirt senior attackman Tyler Melnyk opened the scoring early. The Buckeyes answered, but sophomore midfielder Kyle Whitlow regained the lead for Marquette with one of his three goals on the day. At the midway point of the first quarter, Ohio State took over, scoring six unanswered goals.
Buckeye attackman Jesse King led the charge contributing three of his six points in the 6-0 run. The defense allowed  many quality shots close to the crease and left senior goaltender JJ Sagl helpless between the pipes. Sagl made no saves in the first half and only three stops in the second.
After a more than 20-minute scoring drought, back-to-back tallies from Whitlow and freshman attackman Kyran Clarke cut the lead to three at halftime.
Scoring was in short supply in the third quarter as both teams posted only one goal apiece. Fundamental mistakes kept either side from controlling the game. There was a little more scoring in the fourth with Whitlow earning his fourth hat trick of his career, but the squad could not muster up a comeback and fell by four goals.
Amplo said he was was disappointed in the way his team played Saturday and felt it did not capitalize on the chance to defeat a nationally ranked opponent.
"Shame on us for letting this opportunity slip past," he said. "If we played better, who knows if it could have been a different game, but it wasn't. We played from 12 to two on Saturday and that was the result we got."
Faceoffs cost the Golden Eagles for the second time this season. Overall, redshirt senior faceoff specialist Cullen Cassidy and redshirt sophomore faceoff specialist K.C. Kennedy combined to win seven of 21 faceoffs. Thus far this season, the team average is .343, which is much lower than the more than 50 percent Amplo anticipated at the beginning of the season.
The offense, however, struggled the most. Amplo said the team made many fundamental errors and failed to throw and catch well. Coming out of the Hofstra game with some hype, the team took a step back.
"When you make mistakes against a very good team, you're going to be penalized for it," Amplo said. "Offensively we did not put our best foot forward. We had too many unforced turnovers, bad decisions at critical times in the game that allowed Ohio State to have the ball back and allowed them to go on runs. I'm disappointed with the fact that our guys didn't put their best foot forward in a game they needed to be more competitive in."
The seven-game road trip continues Saturday as the team travels to New York for the second time this season to face Marist.