Roseann Marfitt, a formerly homeless woman in Milwaukee, shifted a microphone closer to her mouth and introduced herself.
"Hi, I'm Roseann," she began. "I'm really happy to be here because …"
She paused and looked to the ceiling. Tears began streaming down her cheeks as she clasped her hands tight. "… Because homelessness has not been fun for me. It was a short period of time, but I didn't think I could survive."
I had the inspiring opportunity to hear Roseann's story at a panel discussion I moderated Thursday afternoon. Roseann is one of four Milwaukee residents who shared experiences of wandering the city without a home. She and her friends — Marcus Roberson, James Parker and Sharona Smith — relayed both the struggles and triumphs surrounding their personal difficulties.
"It was so hard," she continued, choking on her tears. "I felt so broken. I never thought I would get out of that hole, emotionally and spiritually. I was just so broken."
Roseann explained it took her five days of sleeping outside before she was able to get space at a women's shelter. Those five days, she said, were so painful that she "didn't feel human anymore."
"The hardest thing for me about homelessness, especially as a woman, is that I had to prostitute — sell my body — just for a place to stay," Roseann said. "I've been raped. I've been beaten. And the thing that got me through it was people — loving people."
This was a common theme throughout the speakers' stories. Even at their lowest points, all four developed a passion to care for other people.
"I've learned unconditional love from being homeless," Roseann said. "That's one of the best gifts I ever could have gotten. Even when I stunk, even when my stomach was growling, even when my ribs were touching my back — someone was always there to say, 'It's going to be OK.'"
Marcus expressed similar sentiments. "If I can help you, I'm going to try my best to help you," he said. "I hate to see anybody out there going through what I went through."
The event was organized jointly by The Marquette Tribune, Soulforce Solidarity Communications, LLC, and the Association of Social Welfare and Justice Students. It provided a voice we don't often get to hear: from those who are most vulnerable in society.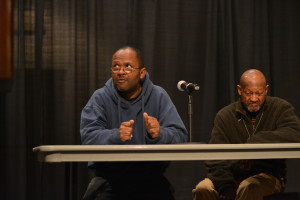 It is easy for people like me, who cherish databases and crave economic debates, to forget the human qualities behind our political clashes. We get so caught up in the ideological that we lose sight of practical reality of the people for whom we debate. Milwaukee maintains a trove of human wisdom that can seriously satisfy intellectual appetite.
Learning does not have to stop at our classrooms, dependent upon the careful pruning of our professors. A further knowledge can be gained simply by engaging with the narratives of those who show up at the shelters surrounding Marquette's campus.
"I consider us to be wildflowers," Roseann explained, motioning to her friends along the panel. "Against all odds, we're survivors. We just keep coming back through the cracks in the pavement."
Wildflowers provide more than just an inspiring testament to personal resilience. They grow in the most unexpected places, attaching themselves to the nutrients of a free and experiential education. A tangled, wild and colorful arrangement of philosophies emerge from these flowers — rooted in love, hope and spirituality. MacCanon Brown, owner of Soulforce Solidarity Communications, who worked with me to bring these speakers to campus, said, "This event brought forth what is true about homeless people: their ability to open hearts and create unity among all people."
My experience working with the homeless was not rewarding  because I was helping other people. On the contrary, my experiences helped me, providing extremely valuable, real-world theology in ways I did not know existed. These "wildflowers" find God in the combined benevolence of people, magnified by the stress of their lives.
Service gives us the chance to gain from the wildflowers, to share in the inspiration they claim in the most painful moments of their lives. But most importantly, true service develops relationships that tear down social barriers and paint the true image of the most vulnerable.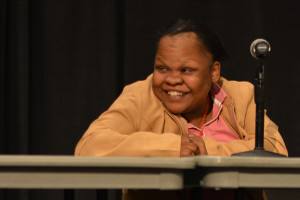 In the end, these relationships are not about helping people; they are about making people equal. They are a method of making everyone a bit richer, both socially and spiritually.
As Sharona said during the panel discussion, "God is helping me to let me help the homeless. I love doing it because it helps me."
Students can benefit from engaging with the people they see around them. It may not be volunteer service, but simply appreciating the willpower of these people will make a difference.
"Homelessness takes a strong person to get through it," James said. "It's not for the weak-hearted, I can tell you that. I used to think of the homeless as the lowest of the low, but it's not like that. I've seen people really pull themselves up by the bootstraps."
It is to the advantage of students to make these relationships, to reach out and better themselves through the experiences of society's wildflowers. Really, this is at the core of our Jesuit education: to eliminate poor judgment and to carefully assess the reality of the Milwaukee community.
"Those that matter don't judge, and those who judge don't matter," Roseann said.