Track and field athletes wrap up busy weekend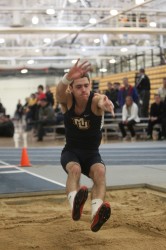 The men's and women's track and field teams returned to campus with one program record and a pair of individual titles following two meets this weekend.
The majority of the runners and jumpers competed at the two-day Meyo Invitational at Notre Dame, while most of Marquette's throwers competed in the Wisconsin-Parkside Track & Field Classic in Somers, Wis.
At the UW-Parkside Track & Field Classic, the Golden Eagles took home a couple of first place finishes.
Junior William Koeck, the reigning Big East Men's Field Athlete of the Week, followed up his record-setting performance last week with a victory in the men's weight throw with a toss of 65 feet, 4.75 inches. Senior Patrick Stuart placed second in the men's shotput with a distance of 50 feet, 1.75 inches.
Marquette also claimed the top two spots in the women's shotput. Senior Kristen Gaffey won with a throw of 44 feet, 2.50 inches and fellow senior Kirsten Walker was second with a  40 feet, 9.50 inch throw. The team also had two of the top three finishers in the weight throw. Junior Samantha Kennedy was runner-up with a throw of 53 feet, 1.50 inches, while Gaffey was third with a toss of 45 feet, 6.25 inches.
The highlight of the Meyo Invitational came in the women's distance medley relay. Freshmen Alison Parker and Kayla Spencer, sophomore Nicole Ethier and senior Katie Kemmerer set a program record and placed third with a time of 11:40.36. Parker also finished ninth in the women's mile with a personal-best time of 4:59.71.
Two freshmen again performed well in the high jump. Oumaru Abdulahi took third in the men's high jump with a leap of 6 feet, 8.75 inches and Omo Tseumah placed fourth in women's high jump with a height of 5 feet, 6.5 inches. Senior Michael Saindon also placed ninth with a jump of 6 feet, 6.75 inches.
The men had some success in the middle distance category. Sophomore Anton Rice took seventh in the men's 500 meter run in a personal-best time of 1:05.22, while classmate Brendan Franz placed eighth in men's 1000 meter run with a time of 2:28.54.
Other noteworthy performances included senior Carlye Schuh finishing eighth in the women's long jump with a distance of 19 feet, 1.5 inches and senior Kate Hein placing tenth in the women's 500 meter dash in 1:16.27.
The Golden Eagles' next meet is Friday, Feb. 14 at the Grand Valley State University Big Meet in Allendale, Mich.
Leave a Comment