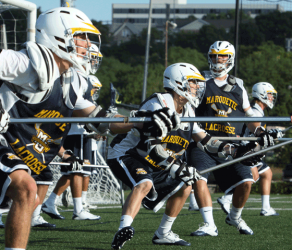 For the first time since May, the men's lacrosse team will see an opposing jersey in exhibition games against High Point and Michigan in the preseason.
After taking the fall off from competition, acquiring game experience will be vital entering the regular season. The two matchups are perfect for Marquette to gain confidence as the season approaches.
Marquette, High Point and Michigan have a combined four seasons of experience with no winning seasons or NCAA Tournament berths among them. However, the Golden Eagles are ranked highest of the group in Inside Lacrosse's 2013 Preseason rankings.
None were big scorers or defenders last year. All were in the bottom quarter of Division I for scoring defenses last year with Marquette and High Point as the third and fourth worst teams in Division I in terms of goals against. Offensively, Marquette was 48th with 8.85 goals per game while High Point tied for 56th with 8.13 and Michigan was last overall with 6.43.
For the preseason, coach Joe Amplo wants to see his team mesh together and start the season off on a good note.
"I'm expecting a bunch of mistakes, I'm encouraging mistakes; I don't want them to be afraid to make mistakes because that's how we're going to grow," Amplo said. "I'm really curious to see how we compete, how the young guys play against outside competition and how well we play together as team."
Last season in the battle of the new programs, Marquette defeated High Point 14-6 in one of its highest scoring and best defensive performances.
A big difference from last year is the size of the High Point squad. It added a lot of depth, growing from 35 to 50 players on the roster and will use this depth to run more midfield lines and keep players from becoming fatigued over the season.
The Panther's sophomore attackman Dan Lomas presents the biggest threat on offense. Lomas had an impressive freshman year, leading the Panthers with 36 goals and was 28th in the nation in goals per game. Marquette's top defenseman, redshirt sophomore B.J. Grill, will most likely draw the assignment and will get some quality experience against a skilled attacker.
"I don't think we have huge expectations in the scoring category," redshirt senior midfielder Andrew Smistad said. "Win or lose it doesn't matter, we just get a chance to go out and play and work on our systems."
Michigan struggled in its first two seasons, going 2-26 to open the program. A team that was almost unstoppable in the club scene quickly learned that going from club to Division I is a difficult transition.
The Wolverines' attacking trio only has one returner with double-digit goals and the midfield has scattered production throughout the top two lines. A lack of a scoring threat gives the Marquette defense an easy day around the crease, but gives the defensive middies good practice against a midfield-focused offense.
With sophomore goalie Gerald Logan, a 2013 All-Eastern College Athletic Conference rookie team selection, out for the season, the Marquette offense should gain confidence shooting against the backup before the regular season and post good numbers.
"Michigan's a lot of fun to play it because they have a great venue," sophomore midfielder Jacob Richard said. "People compare us because we're both in the Midwest so its always fun playing (Michigan)."
Only 17 days separate the squad from the season opener Feb. 8 against Lehigh. There's a lot to look forward to in year two for Marquette lacrosse and it all starts this weekend against High Point.