McCormick illegal narcotic incident under DPS review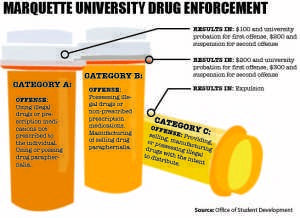 The investigation continues following an incident Sunday in which five students were brought to the hospital after reportedly ingesting an unspecified, illegal narcotic.
Russell Shaw, Interim Director for the Department of Public Safety, said an officer arrived on the scene at McCormick Hall Sunday, and due to medical and safety concerns, the students involved were taken to Milwaukee's Sinai Samaritan Hospital for treatment and evaluation. Shaw noted that DPS only enters residence halls when responding to calls.
"We spend very little time in residence halls, we're not just patrolling through residence halls looking for things going on," Shaw said. "We assume that people who are in the residence halls belong there, and most of our job is a safety and security issue, so unless we get called to a residence hall, it's because someone from the residence hall staff has notified us."
The students await both university conduct and legal action, and one female student was taken into custody by the Milwaukee Police Department for allegedly distributing the drugs. University drug protocol is divided into three categories, each with different punishments of different severity.
Category A offenses are the least severe, and are categorized as the use of illegal, synthetic or counterfeit drugs or prescription medication not prescribed to the individual. It is also a category A offense if a student is found in possession of equipment, products or material that is used or intended for use in manufacturing or using drugs. The penalties for these offenses are $100 and university probation, and after the second offense the fine is doubled and the student is suspended.
Offenses are considered category B when a student is in possession of illegal drugs or prescription medication not prescribed to the individual, or involved in the manufacturing or selling of drug paraphernalia. The penalty for the first offense is $200 and university probation, and after the second offense the fine is raised by $100 and results in a suspension.
Category C offenses are the most severe and occur when a student is involved in providing or selling illegal or prescription drugs to others, manufacturing of illegal substances, or possessing an illegal substance with the intent to distribute it. The penalty for the first offense in this case is immediate expulsion.
Brian Dorrington, senior director of university communication, said the university is mostly concerned with students' health when it comes to drug policy violations.
"We take the safety and well-being of our students very seriously and expect all of our students to uphold Marquette's values," Dorrington said in an email. "The university is grateful for the swift action our Department of Public Safety, residence hall staff and law enforcement partners who immediately responded to the students. The university has extensive drug and alcohol educational programs, including a dedicated coordinator who works to educate students about associated risks."
Shaw said students are taken to the hospital on a case by case basis, and in this case, all five students were taken to the hospital as a precautionary and safety measure.
Last week, there were five separate instances of drug violations in McCormick, O'Donnell, Schroeder and Straz Halls.
Leave a Comment