Engineering dean honored for work in aeronautics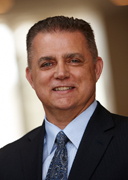 Robert Bishop, the Opus Dean of the College of Engineering, was selected to receive the 2013 Dirk Brouwer Award from the American Astronautical Society, which recognizes his work on navigation systems in space flight and his "exceptional achievements in engineering education."
"The fact that they recognized my work from both my research and my teaching is very important to me because it is the essence of what I believe and engineering professor's career should be about," Bishop said. "It's always about the students, at the core."
Bishop came to Marquette in July 2010 after previously working as a professor at the University of Texas-Austin. Prior to that, he was a practicing engineer at the Massachusetts Institute of Technology Charles Stark Draper Laboratory.
Bishop said he became interested in engineering because of the problem solving aspect of it, and aerospace engineering provides some of the more difficult problems to solve. He said he is also motivated by the idea of exploration, and he was drawn to teaching for similar reasons as engineering. He said academia presents new problem solving challenges he and others get to face.
"What's really most interesting for me at this point is not just the problem solving that that is related to engineering but the problem solving that is related to large scale problems that include not just engineers, but include people in politics, people in law, people in the health professions and people in liberal arts," Bishop said. "I find that web of connection to be very interesting. And in academia this is a place where we can work readily to build those bridges across campus to solve those problems."
In the area of engineering, Bishop spent time working on Morpheus flight test vehicle. Morpheus is a NASA prototype flight vehicle that is capable of vertical takeoff and landing. His contributions to the project were in the navigation systems of the project, specifically, working on navigation algorithms.
"The idea is that the technology that comes off the Morpheus vehicle can be used to create robotic devices that can reach further out on a planet than a rover can," Bishop said.
In education, Bishop is also working on "the idea of blended learning," which allows for students to work on real problems in their education. Bishop's involvement in the Morpheus project allowed a way for students to travel to different conferences and NASA centers to work with engineers on real problems. Bishop said Marquette played a small but critical role in the development of the craft.
Bishop will be honored at the Space Flight Mechanics Meeting of the American Astronautical Society on Jan. 28 in Santa Fe, N.M.
Leave a Comment