Father Naus will be missed by many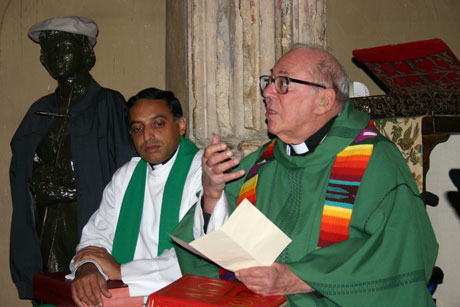 When eating lunch at Marquette Place in 2011, it was not uncommon to see an older man in windbreaker pants and a motorized scooter talking to a group of students. Nor was it uncommon to see this same man giving a sermon at Tuesday night Mass in St. Joan of Arc Chapel.
From a professor to a jokester, the Rev. John Naus was considered the epitome of a Jesuit by many of his colleagues and students.
"He lived and breathed Marquette, and I don't think the university will be the same without him," said Meghan Pirics, a law student.
Naus died Sunday, Sept. 22, at Froedtert Hospital in Milwaukee after recently suffering a stroke, his second in 10 years. He was 89 years old. He was placed in palliative care Wednesday.
Though gone, Naus made a lasting impression on thousands of students, including Pirics, who hasn't forgotten the day she first met Naus.
"I met Father Naus one of the very first days of my freshman year at Marquette," she said. "I was eating in the union with friends, and he came up to our table and just started talking to us. He sat with us for about an hour telling us stories about Marquette from way back when and asking us about our families."
Naus loved talking with students and bringing smiles to their faces, sharing words of wisdom and doing what he could to bring joy to their lives.
"Father Naus' love for life definitely rubbed off on me and taught me to always see the good in every person and situation," Pirics said. "Thank you, Father Naus."
Naus was born on Aug. 28, 1924 and graduated from Marquette University High School in 1942. He was ordained as a priest in 1955 at the Church of the Gesu on the Marquette campus and holds degrees from Saint Louis University and the Gregorian University in Rome.
He began his work at Marquette as dean of students and later served in a variety of capacities: director of spiritual welfare, Schroeder Hall minister for 28 years, associate professor of philosophy, faculty adviser to Alpha Sigma Nu and the Evans Scholars, assistant to the president and chaplain to the Alumni Memorial Union.
Over the course of his teaching career at Marquette, Naus taught ethics as well as Chinese and Indian philosophy.
James South, associate dean for faculty for the College of Arts & Sciences, who worked with Naus for many years, said Naus was "one of the kindest, warmest people" he has ever known.
"No student left his class unchanged — and that change was always for the better," South said. "He was missed after his retirement, and he will be missed even more now, but I take solace in the fact that he made Marquette and the philosophy department places where students saw manifest concern for personal well-being."
Naus retired from Marquette in 2012.
Though Naus had numerous academic achievements and was a vital part of the faculty, South and many students agree that one of his best characteristics was his ability to make people smile.
Throughout his time at Marquette, Naus became known for the thousands of Christmas cards he would send out every year in July and his tradition of celebrating the 10 p.m. Mass at St. Joan of Arc Chapel on Tuesdays.
Naus was also known for dressing up as Tumbleweed the Clown. During his last class, he spent the entire hour teaching his students how to make balloon animals.
"It was nearly impossible to be around him and not be happy," Pirics said. "I think of all things, people will miss his smile and desire to make every person he met feel loved and important."
Pirics noted one of the messages Naus often shared at Tuesday night Mass: "See written on the forehead of everyone you meet today: 'Make me feel important.'"
In an unfinished farewell letter, Naus extended his deep appreciation for the Marquette community.
"I would like to say this to all of you, my Marquette University friends who have sent me messages and cards and promised prayers so that I get better. I appreciate these kindnesses 100 percent. The effect that hearing your words being read to me has had on my life is beyond description. They have given me hope … I love you all very much."
In lieu of flowers, Naus requested memorials be made to the Rev. John Naus, S.J. Endowed Scholarship Fund, which was established in 2004 to support Marquette students like the thousands he served, taught and inspired as a Jesuit throughout his life.
Naus's visitation and funeral will take place on Thursday, Sept. 26 at Gesu Church. The visitation will take place from 2 to 7 p.m., followed by a funeral mass.
Leave a Comment