Q&A with Atlas Genius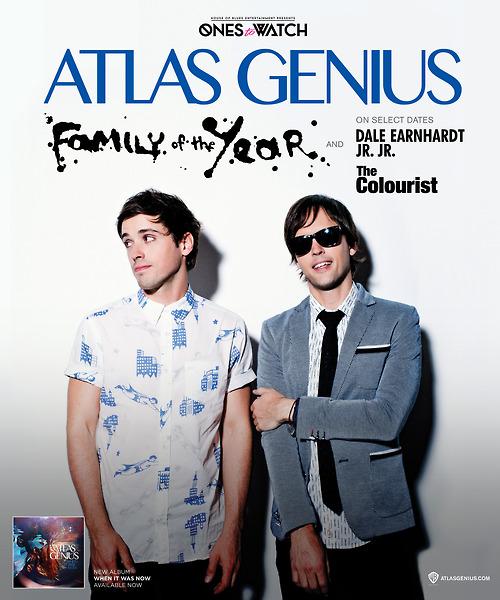 There's no denying the buzz behind the band Atlas Genius. With EP "Through the Glass" and this year's album, "When It Was Now," Australian brothers Keith and Michael Jefferey have definitely made an impression. With the top 20 singles "Trojans" and "If So," which is featured on the FIFA 13 soundtrack,  Atlas Genius has landed a spot in several of this summer's biggest music festivals, from Lollapalooza in Chicago to Sasquatch in Seattle.
I spoke with Keith from Atlas Genius over the phone last Tuesday on musical influences growing up, their rise in fame, sibling dynamics, and everything in between.
Atlas Genius will perform with special guests Family of the Year and Dale Earnhardt Jr Jr , Wednesday, September 25 at Turner Hall Ballroom in Milwaukee. Doors open at 7 p.m. Tickets are $18 in advance and $20 day of show.
Kristina Busch: Who were your musical influences growing up?
Keith Jeffery: "I remember hearing Kurt Cobain of Nirvana  for the first time, and wondering what the hell that was, and getting to know more about the band".
"What I like about Nirvana is you can really listen to those songs that are amazing pop songs that are done in a really unique way, and that's kind of always been the goal for Atlas Genius."
KB: What's the dynamic like being in a band with your brother?
KJ: "I think it challenges the relationship but has also brought us closer. We've had a long set of experiences that we share because we are from the same family. Sometimes you don't get to appreciate them as a family member, but more as a colleague that you're around 24/7."
KB: Tell me more about how the song "Trojans" got noticed.
KJ: "Before we got signed, we posted it on Soundcloud. It just sat there for about a month or so, and we didn't really plan on telling anybody about the song".
"We literally put it up online and didn't really expect anything to come about. The conscious thing that we didn't really want to do was pushing ourselves and expecting people to hear our music, and it just becomes overwhelming to anyone who has any kind on influence in the industry because they don't wanna get a song in their inbox from a band they've never heard of".
"For us, we were like 'okay, we'll put the song out, and eventually someone will find it and we'll have a few fans, and then we'll put out another song and organically we'll grow the fan base to maybe 50 people, but then what happened was it got blogged about by Neon Gold in New York, and because of their reputation, people checked out our song and subsequently seemed to like it… and record companies approached is 2 or 3 months after that ".
KB: What's been your favorite memory while on tour this year?
KJ: "All the festivals have been great, but the one that really stands out is one in Montreal because we've never been there and it's one of those places that we really wanted to go and it was one of the most amazing crowds we've ever played to, which is surprising because we haven't played in Canada a whole lot".
KB: What's one of your main goals as a performer?
KJ: "I think an important job as an artist is to take people away from their regular life. They'll come to a show for a few hours and have the chance to forget about whatever else is going on in their lives. They can either forget about what they're going through, or think about it even more".
KB: Walk me through Atlas Genius' process of songwriting.
KJ: "Most songs are going to take you on a journey—you're gonna have an idea of where you think the song is gonna go, and it might take you somewhere else. I think if you have too much of a preconceived notion of where you think a song is going, then it becomes predictable. For me, anyway, and for us as a band, we get more excited when we start out with an idea and it takes us somewhere completely different".
Story by Kristina Busch
Special to the Tribune
Leave a Comment