LEARY: Gameday's Seeberg sign productive, not offensive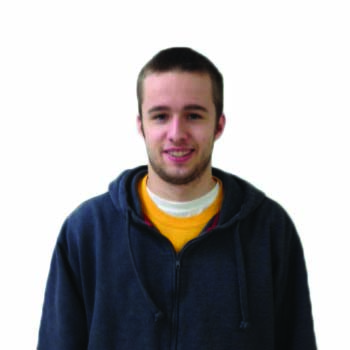 Football officially came back with a vengeance this weekend. Battles between Notre Dame and Michigan and South Carolina and Georgia, captivated college football fans' attentions on Saturday. Sunday, the NFL returned with thrillers between the Packers and 49ers, the Bears and Bengals, and most importantly, the Seahawks and Panthers.
Lost in the shuffle of all of the football mania was something that happened before any of the action kicked off. Saturday morning, ESPN's College Gameday took over Ann Arbor, Mich. to prepare America for the final showdown between Notre Dame and Michigan in the "Big House." Perhaps the show's biggest tradition (besides Lee Corso's helmet selection at the conclusion) is the signs that fans hold up in the background. One sign in particular caused a massive stir on Twitter immediately after the show. The sign read "Hi Lizzy Seeberg."
Lizzy Seeberg was a freshman at Notre Dame's sister school, St. Mary's College, in 2010. On Aug. 31, 2010, about a week into her freshman year, she was allegedly sexually assaulted by an unnamed Notre Dame football player. Seeberg reported the assault the next day but was rebuffed by investigators. She received multiple threatening text messages from teammates of the player over the next few days, including one that read, "Messing with notre dame football is a bad idea."
Ten days later, Seeberg killed herself. Her death led to a cover-up by Notre Dame that hit the pages of the Chicago Tribune in November 2010. According to the article, Notre Dame "did not tell the St. Joseph County Police Department investigating Seeberg's death about her report of a sexual attack" and failed to "refer the case to the county's special victims unit." Instead, the campus police force assigned the case "within the department."
Essentially, Notre Dame massively failed in its duties to investigate wrongdoing by one of its athletes, and it resulted in a young woman's suicide. In January 2013, the Marquette Tribune staff wrote an editorial criticizing Notre Dame's "crisis mismanagement" and asking Marquette to learn from Notre Dame's mistake.
Then came Saturday morning, when a Michigan student brought the "Hi Lizzy Seeberg" sign into College Gameday and ESPN's cameras caught it in the background behind analyst and Michigan Heisman trophy winner Desmond Howard. Twitter exploded with reactions that mostly sounded like this:
"I don't know who brought the 'Hi Lizzy Seeberg' sign to Gameday, but that's subhuman," wrote Dave Hogg, @Stareagle.
However, after Deadspin.com posted an email from a reader who apparently was the fan who brought the sign into Gameday, reaction became more split, and rightfully so.
In the email, the fan claims he made and displayed the sign "to show that (Seeberg) isn't forgotten, and that people do know and care about her story." He goes on to say that "even if her school refuses to acknowledge it, there are some people out there who do."
The email is long, goes into greater depth than those quotes and is definitely worth reading. Even if the fan is, as Deadspin puts it, "a committed Notre Dame hater who'd found a conveniently virtuous reason for hating Notre Dame," he deserves commendation for re-addressing the Seeburg controversy that Notre Dame seems so committed to making go away.
Universities should not be allowed to bury crimes like this and get away unscathed. Marquette knows this all too well. Two female students reported they were allegedly sexually assaulted by multiple Marquette athletes in October 2010 and February 2011. The athletic department mishandled the case in multiple ways, one of which involved a meeting between coaches and players that, according to a Chicago Tribune story, offered the athletes a chance to get their stories straight before speaking with police. The events eventually led to the resignation of athletic director Steve Cottingham and a departmental restructuring in which the athletic director now reports directly to Marquette President, the Rev. Scott Pilarz.
As the email reiterates, this kind of mismanagement is unacceptable.  While subtly slipping a "Hi Lizzy Seeberg" sign into the background of a popular television show probably wasn't the best method, people who think they can get away with cover-ups like the one at Notre Dame need these kind of haunting reminders.
So criticize the Michigan fan all you want, but when it comes to sexual assault, no one should be forgotten.
Leave a Comment