Men's lacrosse win streak snapped at St. John's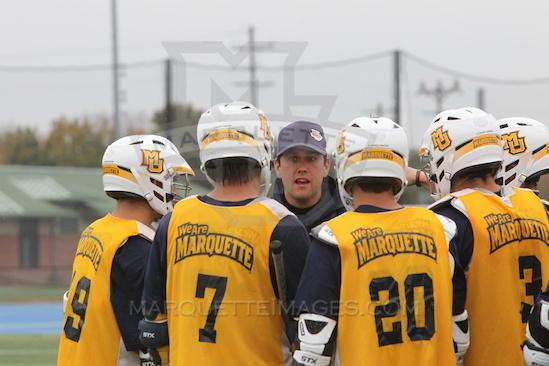 For the first quarter of the men's lacrosse team's game against St. John's Saturday, the Golden Eagles were hanging with the No. 20 Red Storm and even closed the opening period with a 3-2 lead.
To start the second quarter, however, St. John's went on a 6-0 run to put Marquette on its heels. The Golden Eagles never fully rebounded from their second-quarter collapse, as the Red Storm cruised to a 15-10 victory.
Marquette's loss dropped the team's record to 5-7, while the Red Storm earned their program record ninth win this season. Coach Joe Amplo said it was a "weird game" because the Golden Eagles' level of play saw such a sharp decrease in the second quarter.
"The first quarter we were dominating play," Amplo said. "And then, in the first eight minutes of the second quarter, I joked and said it felt like a seventh-grade lacrosse team took our jerseys and played."
St. John's junior attackman Kieran McArdle had a game-high six points (four goals and two assists). McArdle was nominated as one of 25 finalists for the Tewaarton National Player of the Year Award after amassing 85 points through his  first 13 games. He is second in the country in points per game (6.58), assists (49) and assists per game (3.92), and he tied for ninth in goals per game (2.67).
Freshman goalie JJ Sagl said the team was successful in limiting McArdle's production for most of the game in St. John's set offensive situations.
"McArdle is a really gifted, crafty left-handed guy," Sagl said. "We had B.J. (Grill) on him, and B.J. did a fantastic job making sure he didn't get top-side on him. All the goals he had were in transition or broken situations."
For only the third time this season, Marquette won 50 percent of its faceoffs. Led by freshman midfielder Paul Riportella, who won 10 of his 16 faceoffs against St. John's, the Golden Eagles went 14 for 28 at the center X.
Marquette has seen steady improvement in its faceoff play this year, as the team opened the season winning only 33 percent (52 for 153) of the time through six games but has won 51 percent (74-146) of its faceoffs in the last six games.
Although the Golden Eagles had more possessions due to improved faceoff play, 12 of them were squandered by turnovers. Freshman midfielder Connor Bernal, who led Marquette's offense with three goals and one assist, said the offense's untimely turnovers disrupted the team's rhythm.
"When we turn the ball over, it creates momentum, and it kills our spirits sometimes," Bernal said. "When we have less possession to capitalize on because we turn the ball over, it is harder to get any momentum going."
Although Marquette was handed its first loss in more than three weeks, Amplo said he is not disappointed in his team's performance. He said the Golden Eagles still salvaged some progress from the loss.
"The reality is, you are not going to play great every week," Amplo said. "The step we took forward is that we've got to learn how to manage games like that when something is missing."