Track and Field: Bomb threat and snowstorm don't slow down Golden Eagles
Hang on for a minute...we're trying to find some more stories you might like.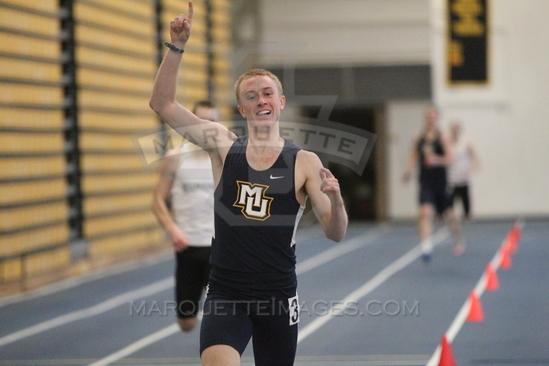 Marquette's track and field team arrived in California Thursday afternoon after two delays altered competition plans. The team's plane landed in Los Angeles eight hours before seniors Connor Callahan and Patrick Maag stepped on the track for the men's 10,000-meter run.
Friday
Maag highlighted the night, as he set a 10 second personal best and recorded the 7th best all-time school time in the race.
"The idea for today was to hopefully get on that regional list," Maag said. "There's still a couple big meets like Payton Jordan and other relays that could throw down some fast times. If need be we'll run again, but hopefully this weekend was good enough to take some of that pressure off."
Callahan left the track disappointed, as he finished 30th of 37 with his time of 30:55.34, even though the time met a Big East qualifying mark of 31:00.64. Elisa Meyle also qualified with her time of 36:52.44 in the women's race.
Coach Mike Koenning and his squad of throwers were unable to compete at The Beach Invitational since the team arrived late in the afternoon and was slated to throw in the morning.
The meet at California State L.A's Twilight Open was cancelled after a bomb threat was reported at Jesse Owens Stadium and cancelled all the day's events.
Saturday
Senior Jack Hackett ran the 44th fastest time (14:05.66) in the NCAA and moved up on the regional qualifying list with his 5,000-meter run on Saturday night at the Mt. SAC Relays.
"The plan was to go out conservative, because the last time (on the track), I was a little over my head," Hackett said. "I hit it hard in the last mile and brought it home by moving up."
With his 10-second improvement on his time from a year before, Hackett moved into the number two spot for Marquette's fastest 5,000-meter run. He now only trails Keith Hanson's 13:46.72 from the 1972 Drake Relays.
Senior Kyle Winter also held his own in his 800-meter race, as he finished second in his heat behind Nick Hartle of UCLA. Winter stuck around in second place for most of the race and fell behind with 200 meters to go but out kicked Sam Penzenstadler of Loyola and Tyler Kilpatrick of Utah State at the line. Winter's 1:50.28 is the seventh fastest for the Big East in 2013.
Jumpers stole the show at the Bryan Clay Invitational as Sarah MacCourtney (5 feet, 8 inches), Tate Pashibin (5 feet, 6 inches), Cheldon Brown and Michael Saindon (6 feet, 9 3/4 inches) set season bests in the high jump.
Sunday
Back in the Midwest, Marquette sent a few distance runners to the Phil Esten Challenge at Wisconsin-La Crosse chasing Big East qualifying marks.
Senior Christina Sliepka won the women's 10,000-meter run in 37:26.06, as Sarah Poirier and Rebecca Pachuta followed for the top three spots. Junior Hannah Frett finished fifth in 39:03.08
Freshman Patrick Campbell was the lone runner in the men's 5,000-meter run, and he finished 10th in 16:01.29 in his second race at that distance in 2013.
Freshman Cody Haberkorn fell short of a Big East qualifying time in the men's 10,000-meter run with his time of 32:02.68 but ended the day with a fourth place finish. Sophomore Mark DiVerde (32:50.62) placed 12th in the same race.
The Golden Eagles will regroup as one for the Benedictine Twilight Invitational in Lisle, Ill., on April 26. This meet is the last chance for runners to notch Big East qualifying marks.