Men's lacrosse triumphs over fellow first year program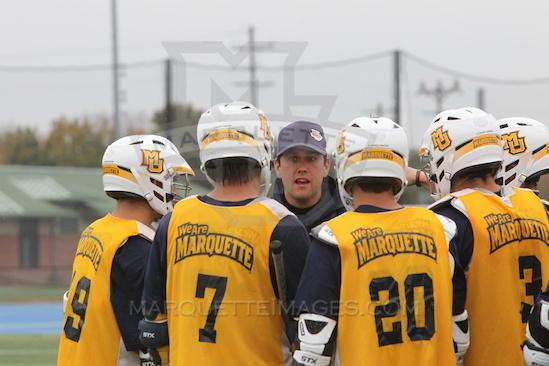 Early in the second half of the men's lacrosse team's game against High Point Saturday, the Panthers scored to cut Marquette's lead to one.
In the next six minutes, however, freshman attackman Conor Gately scored his second and third goals of the game, initiating a 9-1 run for the Golden Eagles that spanned almost 20 minutes. Gately finished with a game-high four goals, and the Golden Eagles emerged victorious, beating their fellow first-year opponent 14-6.
Marquette's 14 goals matched the team's season high, set in a win against Mercer one month ago. Redshirt junior attackman Tyler Melnyk had a game-high five points (three goals and two assists), while redshirt freshman Kyle Whitlow tallied two goals and two assists. Gately said he and Melnyk were simply the beneficiaries of the whole offense's execution.
"This whole week, we were working on matchups and, come game time, Tyler and I just got the matchups we liked and capitalized," Gately said. "We're all playing off each other a lot better."
Additionally, six goals is the fewest the team has allowed since the Golden Eagles beat Air Force in early March. Freshman goalie JJ Sagl led the team's defensive effort, registering season highs in both saves (16) and save percentage (.727). Sagl credited his statistical success to his teammates' preparation.
"We had a great defensive game plan; we were so prepared," Sagl said. "It was arguably one of our best defensive performances as a team."
Much of the Golden Eagles' defensive success came from their ability to shut down High Point's star attackman, Dan Lomas. The left-handed freshman phenom entered Saturday's game in the top 10 in the country in both goals and goals per game. For only the second time all season, Lomas was held scoreless despite taking eight shots.
Coach Joe Amplo planned to keep redshirt freshman defender Charley Gargano on Lomas, while fellow redshirt freshman defender BJ Grill covered Matt Thistle, High Point's leader in assists. Amplo said both players stayed focused solely on their assignments to keep Thistle from feeding Lomas for an easy goal.
"Charley Gargano did a wonderful job," Amplo said. "When he did leave Lomas, he made a wonderful job of making sure his teammates were there to support him. It wasn't just one specific thing, but it was more the entire game plan that was prepared."
Marquette's decisive win over High Point ended the team's four-game skid and improved its record to 3-6 on the year. It is one of six programs to add Division I lacrosse in the last five years. Only Jacksonville, which was 6-7 in 2010; High Point, which already has three wins and Marquette won more than one game in their first season.
With a 2-8 Detroit team coming to Milwaukee for Marquette's first home game of the season Saturday, the Golden Eagles have the chance to win the first pair of consecutive games in program history. Amplo said the prospect of such a win streak is alluring to him.
"There's so many things that you want to win for," Amplo said. "But for me, I just want to go on a winning streak. I want to win two games in a row."