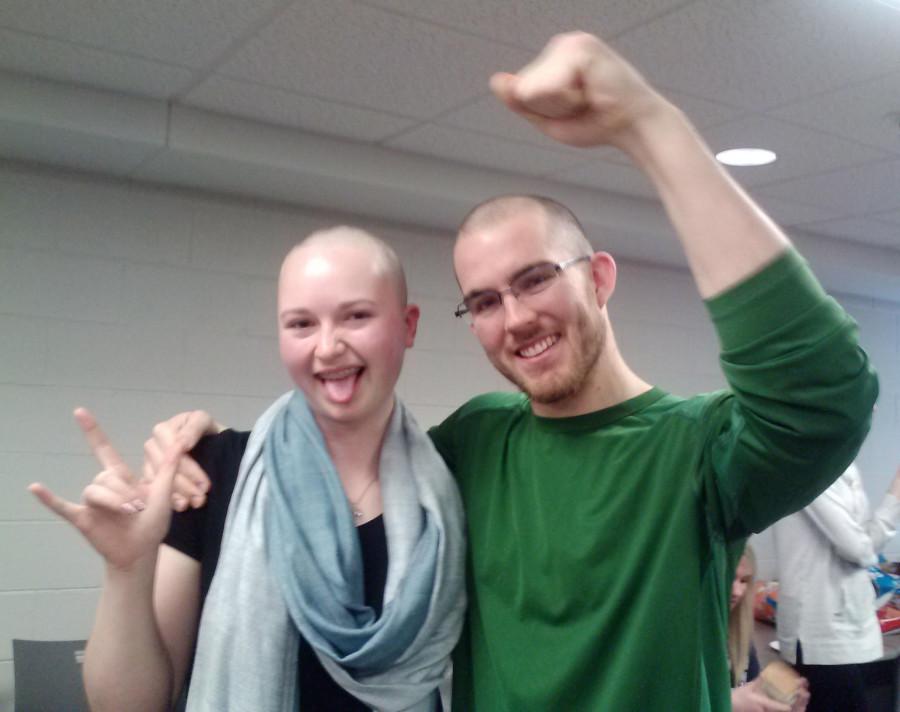 Around the world, a child is diagnosed with cancer every three minutes, according to statistics from the St. Baldrick's Foundation. To help combat that statistic, the Marquette Evans Scholars teamed up with the foundation to hold a fundraiser Saturday for children's cancer research in the basement of the Evans Scholars.The Evans Scholars program consists of golf caddies who received a full scholarship to Marquette.
Participants who attended raised money for children's cancer research by shaving their heads in support.
Devlin Gray, a senior in the College of Business Administration and an Evans scholar, was one of the primary organizers of the event.
"This event was a huge success," he said. "We had about 160 supporters and raised approximately $12,000."
Gray, who battled cancer as a child, has been involved with the fundraiser since his freshman year.

"Whether people realize it or not, this disease affects everyone," he said. "I think just about everyone has been directly impacted or knows someone who's been impacted by cancer."
Brett McGowan, a junior in the College of Business Administration, assisted Gray with organizing the fundraiser.
"We here at the Evan Scholars House received an outstanding scholarship because we are (golf) caddies," he said. "Now it's time for us to give back."
McGowan, like Gray, has participated in the event since his freshman year.
"I have never seen our basement so full," he said. "It was a great time – having food, watching the basketball game and bringing more awareness on childhood cancer."
Even a few girls shaved their heads in honor of the foundation. Catherine Knier, a sophomore in the College of Health Sciences, was one of them.
"Within the first day after I 'made the cut,' I really gained insight into some of the things cancer patients go through," she said.  "For me, it's both terrifying and liberating, but I can only begin to imagine the sadness and insecurity a woman might feel when such a decision is out of the question."
Knier said the looks she got from other people showed pity, fear and sadness.
"Some people shy away from a girl with a bald head, but the most amazing thing is the people who've approached me with kindness, wanting to know my story," she said. "It's wonderful to see how much complete strangers truly care."
Knier found out about St. Baldrick's during last Wednesday's 10 p.m. Mass at St. Joan of Arc Chapel.
"When I heard about it in Mass, I felt like it was meant to be," she said. "I prayed on it, did a little research on the St. Baldrick's Foundation and that very night signed up for it."
According to the foundation's website, only four percent of U.S. federal funds for cancer research go toward new treatments specifically for children.
Ryan Knott, a junior in the College of Arts & Sciences, decided to shave his head with Knier.
"I have slowly come to realize that giving of yourself in small ways can be just as impactful – or more so – than big projects, service trips or events," Knott said. "So I decided this was a small way to sacrifice my self-image and use it as a means to raise money for a cause that really needs it."
Knier said the experience allowed her to put her life in perspective.
"I have been granted the insight as to how much courage and strength children with cancer must have," Knier said. "They not only have to face dreadful illness and treatments, but also living each day without something we spend so much time on, invest so much in, and so often take for granted – our hair."