Catholic 7 to announce Big East exit Thursday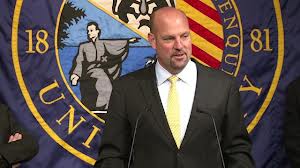 Big East officials and Catholic 7 representatives reached an agreement late Wednesday night to allow Marquette, Georgetown, Villanova, St. John's, Providence, DePaul and Seton Hall to leave the Big East June 30, 2013 and begin their new conference July 1, according to ESPN's Brett McMurphy.
McMurphy reported that the Catholic 7 will retain the Big East name and the rights to Madison Square Garden for the conference tournament. The remaining schools in the current Big East will have until July 1 to rename their conference.
Marquette Vice President and Director of Athletics Larry Williams told the Tribune in a January interview that he hoped this deal would be done in time for the Catholic 7 to secede from the Big East this summer.
"The bottom line is, everybody wants to get off and do their own thing," Williams said. "(The remaining Big East schools) want to build their conference, and we certainly want to get about building ours."
Williams also mentioned Xavier and Butler by name as two logical additions to the new Big East. Now, ESPN and other major news outlets are reporting that those two schools, along with Creighton, are likely to join the new Big East by the July 1 deadline for competition in the 2013-2014 school year.