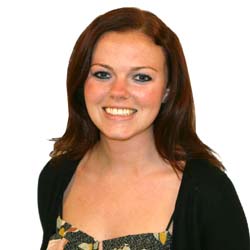 If you ever need to learn a thing or two about life, just go sit on an airplane. More specifically, go find a little kid to sit next to on that airplane.
This past weekend, flying back from a job interview in St. Louis, I did what I do best – overanalyzed the previous 48 hours of my life. I thought about what I had said are done and how I acted when nobody seemed to be watching. I even wrote down all of the interview questions I was asked and my responses to each.
In other words, I drove myself absolutely crazy.
Just as I was about to break into a full-on panic attack, though, a little boy sitting next to me asked what was wrong. The conversation went a bit like this:
Me: What do you mean, what is wrong?
Little boy: You look upset.
Me: I'm not upset, just worrying about a job I really want.
Little boy: What type of job?
Me: A job that has a lot to do with helping and talking to big kids in college.
Little boy: Well just be good at talking to the big kids then, and you'll get the job.
Me: (nervous laughter) I don't think it's that easy …
Little boy: Yes, it is.
In an effort to avoid getting into an argument with a seven-year-old on a plane, I decided to ask him what he was reading. It turned out to be "Harry Potter and the Sorcerer's Stone," and as a result, I immediately wanted to be his best friend.
We talked about how we both think Hogwarts is secretly real and who our favorite characters are. (He didn't understand why my favorite is Severus Snape.) I told him about the collectors' edition wands and the Draco Malfoy action figure I have sitting on a shelf in my room.
To this, he said, "You should have just talked to those job people about Harry Potter – they would have liked you more. It's good they don't know who your favorite characters are, though … then they would have thought you're evil."
As I pondered this simple yet uniquely profound statement, the flight attendant walked down the aisle offering complimentary drinks, cookies and pretzels. I declined her offer, while the little boy asked for the cookies.
He immediately turned to me and said, "What are you doing? You take cookies when you can get them."
At this point I was starting to get tired of being harassed by a seven-year-old, so I asked him what he wants to be when he gets older. He began to tell a long and elaborate tale of working with animals and going to the circus while simultaneously saving people and being in a band.
Basically, the kid is going to be a singing circus ringleader version of Superman.
The flight soon ended, and I bid farewell to my little friend, but as I waited in the Cincinnati airport for my connecting flight back to Milwaukee, I started to think about the lesson the little boy had just taught me.
Although so simple, everything he said was 100 percent true. "Be good at talking to big kids, and you'll get the job." His lessons – such as good always trumps evil, never pass up on a cookie and that having a big imagination and dreams are important – are all true.
In a 45-minute plane ride, this little guy basically summed up what life should be all about.
So often we look at children as naïve and silly, but adults can actually learn a lot from the little ones. No matter how simple it may be, children speak truth adults are often too distracted to understand. We should take note of such simplicity. We overanalyze, stress about the unimportant things and give ourselves anxiety and coffee-induced ulcers far too often.
What we should be doing, though, is listening to and learning from our younger siblings, children and students. They can simplify the world around us so that it makes sense, and they serve as a reminder of what is truly important.
Next time something seems stressful or complicated, just try to find the little kid inside you and remember three things: brilliance can be found in the most unexpected people, one is never too old to keep dreaming and when there's a cookie to be had, you'd better not pass up on it.
—
Brooke Goodman is a senior studying journalism and political science. Email brooke.goodma[email protected] with anything you'd like to see her write about.
Story continues below advertisement