With October quickly rolling in, students can take advantage of the festive fun away from campus during the crisp fall of Milwaukee.
As a Milwaukee native, I find there to be a wide variety of fall must-dos to enjoy with friends and family. One of my favorite memories growing up was going to the Milwaukee County Zoo during the most memorable time of the leaves changing from a bright green to a vibrant orange. 
The travel times for these fall activities are made easy with the Marquette U-Pass — a pass that allows students to ride any Milwaukee County Transit System bus for free.
Boo at the Zoo 
Boo at the Zoo is a fall event that will never get old, especially as an event that people of all ages can enjoy. As a kid, I remember going in full costume and walking through the paths at night while admiring every animal; the ambience of the spooky lights and brisk air made staying out past my bedtime one of the best parts. 
Students are never too old to enjoy the nostalgia of trick-or-treating, especially since there are a total of 10 stops along the animal trails which range from Primates of the World to an Aquatic & Reptile Center.
Tickets not only sell fast but are also affordable at $15.50. Pre-purchased tickets are required. The event is Oct. 19-22 from 5:30-9 p.m. making it easy to attend after class.
Milwaukee's Oktoberfest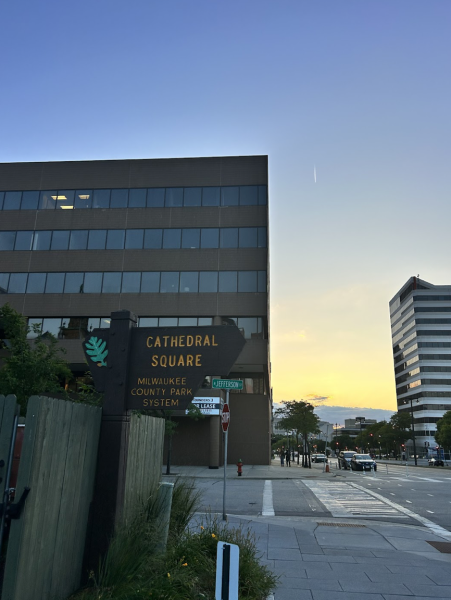 Another must-see event is Milwaukee's Oktoberfest located in Cathedral Square Park. The event takes place from Oct. 6-8 with music, food and live entertainment. 
What makes the event even better is that it is free! Oktoberfest supports the non-profit Music in the Park LLC to provide other free entertainment at Cathedral Square Park.
The perfect way to wrap up the summer is to end it with a classic brat from Oktoberfest made by Kegels Inn, a Milwaukee German-style restaurant.
Dog-lovers can also enjoy the Wiener Dog Beauty Pageant at 2:30 p.m. on Sunday, Oct. 8.
The Oriental Theatre
For students who live for seasonal thriller movies, the Oriental Theatre is the perfect place to go. Located on the East Side, the theater holds elements of East Indian-inspired charm. 
New and classic films like "A Haunting in Venice" and "A Nightmare on Elm Street" will be shown through October. With a full list of movies found on their website.
The bus route is made easily navigable by taking the stop from Wisconsin Ave. to the Bublr Bike Station on Prospect and Kenilworth.
Tickets can be bought online, and students get in for $10 with a valid student ID.
Oak Leaf Trail
One of my most honored traditions was getting out of the house and going for a Sunday hike along the Oak Leaf Trail. Spanning over 100 miles long, the trail is a beautiful and scenic walk starting from the Milwaukee Lakefront. 
The beauty of this free activity is it can be easily incorporated into the day, whether that be with friends or for self-care. You are able to choose as little or as long of a hike and there are a variety of parks, waterfronts and urban areas along the way. 
This article was written by Mimi Sinotte, she can be reached at [email protected].