Starbucks is definitely letting you know it's fall with "September ThursYays." This promotion is if you buy one handcrafted fall drink on a Thursday in September after 12 p.m., you get one for free.
The drinks classified as handcrafted fall drinks include: Pumpkin Spice Latte, Pumpkin Cream Cold Brew, Iced Pumpkin Cream Chai Tea Latte, Chai Tea Latte, Apple Crisp Oatmilk Shaken Espresso, Caramel Apple Spice and Apple Crisp Oatmilk Macchiato.
Now this big news sounded like a great deal, especially for the fall drink lovers, since this offer is valid for any sized drink, but of course it comes with fine print. The free beverage must be of equal or lesser value and cannot exceed $10, you have to be a rewards member and — of course — this is only valid for four days out of the month.
But an even bigger downside to this promotion was the absolute chaos inside of Starbucks as soon as noon hit.
I visited the Starbucks at W. Wisconsin and 16th Street Sept. 7 completely forgetting about the BOGO deal. I walked in and was immediately blown away by the business and the line out the door. In a rush for class, I wasn't able to wait in the chaos.
Cautiously deciding to give it another chance, I visited the same location this past Thursday and saw even longer lines and waits.
I arrived at 12:21 p.m. to a barista letting the — at least — 80 people know they were 160 orders backed up. Those 160 orders would be at least an hour wait, since they were just getting to drinks from 12:02 p.m.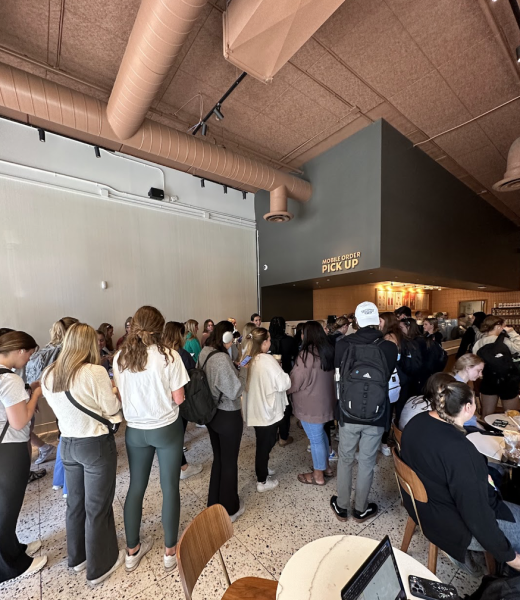 Sammi Casey, a sophomore in the College of Communication, was one of the many waiting in line for the BOGO deal.
"We ordered it online at 12:05, and I went to pick it up at 12:10. Immediately when I entered there were at least 50 people already in the store. The worker told us there were 100 orders on que and it was going to be a 45-minute wait," Casey said.
Despite the long wait, Casey said the BOGO deal still makes her more likely to go to Starbucks.
"As chaotic as it is, it is such a good steal. Starbucks is on the higher end of prices for coffee, so all Starbucks lovers really appreciate that deal and I definitely think it gets more people to go," Casey said.
I was interested in a barista's perspective on this chaos and unfortunately, because of Starbucks corporate communication rules, I wasn't able to get one. Despite that, a barista and TikToker, Zahira Sandoval, posted about her experience working a BOGO shift.
In her video she posted about constantly preparing drinks for customers with no rest during the entire afternoon. Sandoval narrates that both she and her co-workers were exhausted at the end of their shift, with the only time she had to take a break was during her 10-minute break.
I was not surprised by the comments left on her post either. "My customers were especially rude during BOGO," one person wrote. Another wrote, "I had to leave cause the line was literally out the door."
I know many Starbucks' lovers enjoy and appreciate the promotions they do, but the BOGO deal will definitely cause a lot of backups and stress during Thursday afternoons.
If you're thinking about using your Starbucks promotion Sept. 21 or 28, make sure to give yourself plenty of time and be prepared to wait in a busy Starbucks, because, despite the deal Starbucks BOGO offers, it will definitely be sure to give you a long wait in return.
This story was written by Sophie Goldstein. She can be reached at [email protected].