REVIEW: 'Beau is Afraid' – George is afraid
As the semester dwindles down, everything seems to be coming too soon. Finals, summer jobs and visits home are fast approaching. Amidst my personal madness of exams, storage units and plane tickets, I viewed writer/director Ari Aster's new film "Beau is Afraid."
"Beau is Afraid" is a memorable experience defined by absurd interactions, preposterous plot points and clear-cut takeaways. In its three-hour runtime, the viewer is taken on a visual odyssey as the main character, Beau (Joaquin Phoenix), goes on a journey to find himself amidst the recent "death" of his mother.
The basis of this film is "mommy issues." Its driving force is that Beau must get home to attend his mother's funeral, encountering obstacles along the way. Throughout the movie, flashbacks illustrate Beau's unusual relationship with his mother, giving the audience context for the journey he finds himself on. Beau is an anxiety-ridden, pill-popping shell of a man who lives to please everyone around him. These aspects of Phoenix's character are a product of his childhood, and the film points out his various idiosyncratic qualities as a direct result of experiences curated by his mother.
From scenes of suburbia contrasted by encounters with woodland folk, this film details Beau embarking on an incomprehensible journey that could only be the brainchild of a mind off the deep end. I applaud Aster for stringing together a somewhat coherent story in a film where a man's proverbial father is literally a living penis.
Yes, you read that correctly.
It's absurd to think that this could be a specific plot point in any movie without it verging on the edge of incomprehensibility. But, "Beau is Afraid" manages to guide the audience on a trip that seems entirely realistic to the world it takes place in, maintaining foundational messages throughout.
This movie highlighted how childhood experiences can irrevocably change any person. It openly criticizes those who won't let go of their children and let them be their own people, emphasizing the negative/positive effect a parent can have on someone's life. Beau lives under the yoke of his mother, completely chained to her existence as much as he was from the moment he was born, and the movie showcases the consequences of that.
Alongside purposeful themes, this was genuinely one of the most hilarious movies that I have seen in a while. Whether through Saturday Night Live-esque cutaways or ridiculous set design, "Beau is Afraid" possesses a certain element that makes it laugh out loud funny.
Although, even through it's hilarity, I could definitely understand how people would dislike this film. At times, it was extremely hard to follow and thread the plot together. Without my enjoyment of the film's comedic aspects, I definitely would not have had as positive of an experience. A valid criticism of this movie would be that it focused a bit too much on its surrealism and not enough on a cohesive story that audiences could follow.
Something I consistently struggled with was discerning how Beau got from point A to point B throughout the film. Oftentimes, there would be a scene change to an entirely different environment, forcing viewers to play catch up. This definitely added to the movie's ambiance but also took away from its story, although I will say that I did enjoy the element of unpredictability that it added.
"Beau is Afraid" is a hilarious film layered with deep messages followed by intricate plot points. I would be lying if I said I understood exactly what this film is about, or what it is specifically supposed to mean. What I can say is that it obviously was a deeply personal project for the filmmaker, Ari Aster. Although, I'm not sure even he knows what it is supposed to ultimately mean.
Overall, I would encourage people to go into this movie with an open mind. Be ready for the weird, be ready to get weird. Then, and only then, will you enjoy "Beau is Afraid."
This story was written by George Kane. He can be reached at [email protected].
Leave a Comment
About the Contributor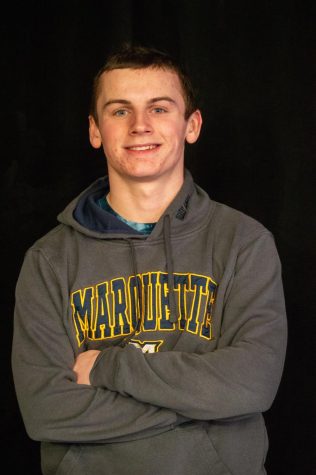 George Kane, Arts & Entertainment Reporter
George is an Arts & Entertainment Reporter at the Wire. He is a first-year from Trumbull, CN studying digital media.

In his free time, George enjoys...