MU alum Jessie Gomez begins to write her next chapter
Jessie Gomez, Marquette alum and current dental assistant in the Graduate Endodontics Department was featured as a published author in the fourth volume of Today's Inspired Young Latina.
Today's Inspired Young Latina is inspired by the Today's Inspired Latina series. The series includes personal success stories to "motivate" the LatinX community for future generations. 
"My chapter mostly focuses on my struggles growing up without any role models in higher education, how/why I decided on becoming a dentist, and my experience in undergrad at MU as a disadvantaged student and how I persist on my journey to grad school and becoming a dentist," Gomez said in an email.
Gabriela Hernández Franch, chief operating officer of Fig Factor Media, the publishing house that publishes Today's Inspired Latina, worked with Gomez during the editing process. Franch said that Gomez is a resilient and success-driven student, and is a great role model for young Latinas.
"Young Latinx students are often faced with tough situations, feeling lonely and less opportunities than their counterparts, so seeing students like Jessie push through and be successful in her goals and in higher education is so inspiring. She is paving the way for other young students just like herself," Franch said in an email.
Franch said that Gomez is an amazing student and leader that is always looking to help others and that she wants to give back to her community and be a great representation for Latinas in dentistry. Franch said Gomez is part of the National Campaign of Young Latinas: Impacting the Next Generation, which is an event campaign that hosts events to promote the book series and inspire other young Latinas to share their stories
In her chapter, Gomez said she also briefly touched on having an eating disorder and attention deficit/hyperactivity disorder. She said that the chapter is vulnerable, and she wants to inspire people with authenticity.
"Around 12 years old again I began purging. I think puberty was just really harsh on me (like most kids) and I just hated everything about my body. I continued to binge and purge up until last summer really. It got to the point that I didn't even need to physically make myself purge, it was really bad," Gomez said in an email.
Gomez said her friend, Sofia D'Acquisto, a second-year in the School of Dentistry, helped her through her eating disorder. Now they are both researching eating disorders and dental hygiene.
"The current research we are doing is inspired from our previous experiences with eating disorders, and the implications they have had on our overall health. She wants to conduct more research on the disparities surrounding the lack of dental care in LatinX communities here in the US," D'Acquisto said in an email.
D'Acquisto said that she was surprised when found out that Gomez mentioned her in the chapter.
"I believe that she has inspired me more than the other way around. If I were to guess why she mentioned me I think it's because of our shared value of friendship through these past couple years. Our love, respect and support of each other is a testament of the importance of friendship," D'Acquisto said in an email.
Gomez said she hope students can read her chapter and see that they are not alone.
"We are all just a bunch of humans who live on a floating rock in the middle of a huge universe. Don't sweat it. Whatever happens, happens. Live every day to your fullest and just know that you can achieve whatever you really work hard towards. Don't be afraid to share your story because stories matter. And don't forget to brush and floss at least twice a day, every day!" Gomez said in an email.
Going forward, Gomez said she is continuing to work towards her dream of starting a scholarship fund for other LatinX students who want to go into the dental field.
"I would love nothing more than to be able to help another Latina student with their education and path to success," Gomez said in an email. "It's hard to want to do what's best for yourself if it may also consist of moving away from your family or not being as present or close with them or for them anymore.  I want to be there to let them know that it's okay to follow your dreams!"
This story was written by Hannah Hernandez. She can be reached at [email protected].
Leave a Comment
About the Contributor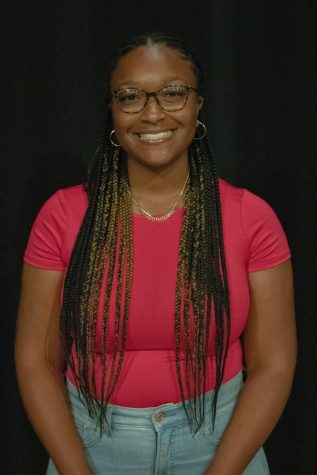 Hannah Hernandez, Assistant News Editor
Hannah is the Assistant News Editor at the Wire. She is a senior from Milwaukee, WI studying journalism and minoring in Spanish and writing intensive English.

In...