Deniko Montgomery motivates Milwaukee youth
Deniko Montgomery, graduate student at Marquette has helped kids learn what they want to pursue in their futures, assisted refugees with their mental health amidst the COVID-19 pandemic and helped Milwaukee Public School students in the classroom.
Montgomery does this work as a Trinity Fellow which has allowed him to work with organizations ranging from Milwaukee Metropolitan Sewerage District  to Walkers Point Community Clinic.
Montgomery is a Milwaukee native from the north side, and he was raised by a single mother.
"I was able to experience both sides of Milwaukee in a way. In my neighborhood, you deal with a lot of violence, but I'm a private school kid too, so I was able to interact with different people that don't come from the same area as me, which is good, but I still had troubles," Montgomery said. 
Montgomery said he didn't like school and wasn't able to get the best grades during his time in elementary school, because it didn't foster the learning environment he needed.
"Coming from the north side, I had slang, so I wasn't able to take Spanish or French in class because they thought I needed to work on my English. I guess that was the beginning of being interested in diversity, equity and inclusion," Montgomery said.
Montgomery was given the Rising Star award at the African American Environmental Pioneer Awards Feb. 20.
Montgomery went to Jackson State University in Mississippi and was a part of multiple organizations such as the NAACP, his school newspaper and the pre-health society before graduating with a major in biology 
During his graduate education at Marquette, Montgomery worked with Jeff Spence, the director of community outreach and business engagement during his time at MMSD, which focuses on wastewater treatment, flood management, education and outreach and water quality in the Milwaukee area. 
"Being an African American male in a white-dominated field can be intimidating, but Deniko really brought his authentic self to the table, and wanted people to know him and his experiences so there could be a true connection," Spence said.
Montgomery's job was to work with students in MMSD's community outreach program. He said he enjoyed going on walks with his students during their lunch breaks and helping them figure out their life plans and telling them why pursuing their education is so important.
"He's [Montgomery] a young person who probably doesn't know or have a huge history in the work environment, but cares passionately about working in a field in an organization that cares about its people. I appreciated his interest and fascination on how to begin to drive change," Spence said.
Montgomery's job was to work with students in MMSD's community outreach program. He said he enjoyed going on walks with his students during their lunch breaks and helping them figure out their life plans and telling them why pursuing their education is so important.
"My big thing is representation, so increasing that number, exposing people of color to this area, and providing for all high school students, no matter the race or gender that want to pursue environmental water space. We also want to teach them that they don't have to be an engineer, they can go into business or learn what legalities can play a role," Montgomery said.
Montgomery also worked as a team member for community engagement at Walkers Point Community Clinic. He focused on aiding refugee men in fitness and holistic health during the COVID-19 pandemic.
"It was mostly focused on men who expressed during their checkups with the doctors that they feel some type of isolation or loneliness. They miss their families who maybe aren't even in the country yet," Montgomery said.
Montgomery was also a part of AmeriCorps, which collaborates with middle school students to first-years in high school to work on improving test scores in Milwaukee public schools. He was placed at Alexander Mitchell Integrated Arts School on the south side with Yaphet Morales, the Service and Learning Director at City Year.  
Morales said AmeriCorps has members who lead small group interventions and focus on attendance, emotional learning and academics.  
"He had an amazing relationship with the students. When it came to being a corps member, you have to have lesson plans done for review, and some people struggle with that, but Niko was one that was able to balance it," Morales said.
During their parent teacher conferences, Montgomery wore a bow tie, which he said a lot of kids took notice of. This gave Montgomery the idea to give all students a bow tie. He talked to his manager about it, and an initiative was born.
"I did a "bow tie Tuesday" initiative which is focused on the stigma of how more black men go to prison than going to college. It was also about spreading awareness on the lack of black male teachers in America," Montgomery said. 
They were able to get 100 bow tie donations, and it started off in Montgomery's classroom, but then it grew to the whole community. The principal and lunch room workers even wore bow ties.
"For me, the bow tie symbolized wanting to be better. It symbolized commitment. Understanding that you want to be more than just a statistic," Montgomery said.
After doing this, Montgomery said he noticed kids coming to school more dressed up in something like a simple polo.
"What gets me to want to do this work is the students, never really the adults. I'm big on getting to know them as individuals and not just looking at them as an intern or a number to our data," Montgomery said.
This story is written by Sophia Tiedge. She can be reached at [email protected]
Leave a Comment
About the Contributor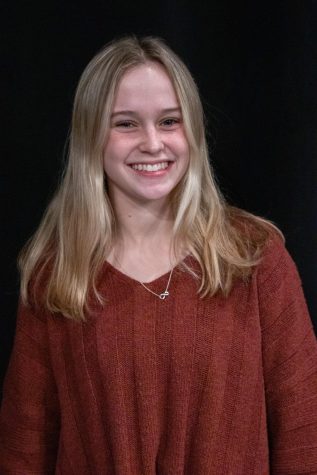 Sophia Tiedge, Assistant News Editor
Sophia is an Assistant New Editor at the Wire. She is a first-year from Arlington Heights, IL studying journalism.

In her free time, Sophia enjoys reading,...