Regina Rodriguez: Hispanic Youth of the year
Highlighting her outstanding work in the community, Regina Rodriguez, a sophomore in the College of Arts & Sciences, was named Hispanic Youth of the year last week for her resilience and ability to overcome obstacles.
"I think she has a lot of grit. She demonstrates really strong leadership skills, she has really good communication skills, she's really personable," Vanessa Vasquez, a mentor of Rodriguez, said. "She just oozes so much potential and leadership, I know this award is so good for her, it's gonna highlight everything she's done, but everything she can also continue to do, and I think all the changes she will bring to Milwaukee."
Vazquez nominated Rodriguez for the award given out by the United Migrant Opportunity Services. The two formed a bond when Vasquez was the director of career readiness at Carmen High School of Science and Technology on the north side of Milwaukee. Vasquez has been impressed with Rodriguez's growth since she was 14. 
"I'm just so proud of that tremendous growth and maturity that she's really, really demonstrated. She's grown up a lot and some of that comes with coming of age and going through those difficult high school years and now being an adult off in college," Vazquez said. "I think just being able to express that and ask for help has helped her tremendously, being able to talk about that and use that as a motivation to prove the statistics wrong."
UMOS is a philanthropy group supporting Latinx across seven states, awarding Hispanic woman of the year, Hispanic man of the Year, Hispanic youth of the year and Hispanic family of the year to individuals for their accomplishments.
"It was inspiring for me because it showed my hard work and dedication to the community and being a Latina leader. It's important for me to lead other women or young adults to follow their dreams and to be involved and to make those connections, so it's really rewarding," Rodriguez said. 
Rodriguez, a criminology and law studies student, is a member of Milwaukee County Cadet Troop 280, a program run by deputy Kristine Rodriguez.
"I have full trust in her. The other cadets really look up to her when it comes to training. She also helps me manage many of the events that we put on, like if we put together a drug take-back date," Kristine Rodriguez, program director, said. "The purpose of the program is to give young adults a chance to look into the field of law enforcement and see if it's something for them. I know she's going to be a super successful person regardless if she ends up in law enforcement or not." 
Rodriguez said she views the EOP as an opportunity for minorities to come to Marquette, increasing diversity.
"EOP has helped me grow at Marquette because the mentors and counselors help guide us through classes, life and through anything that we need, and they're always very supportive, just like a family is. They're like our second family away from home," Rodriguez said. 
Laiya Thomas, the executive director of the EOP, also called the EOP a family, describing the program as a support system for first-generation college students like Rodriguez, providing the resources necessary for these students to navigate the college culture.
"The award that she received was so fitting because of the leadership qualities she possesses on campus, in her community, she's resilient, she has been through a lot, she's overcome a lot of obstacles to get where she is. She has a don't give up mindset," Thomas said. "She's a leader within our program. Whenever we need a student to participate in an event or be on a panel or volunteer for something, Regina, she's always present."
Rodriguez stressed the importance of representation, referencing the importance of seeing someone that looks like you succeed and how that has motivated her to work with the youth in her community.
"I think growing up, I didn't really have role models that looked like me," Rodriguez said. "I think becoming the example and the mentor in the community is important because then you are able to motivate those young adults that wanna do a similar career or be a similar example so they lead the next generation." 
Leave a Comment
About the Contributors
Kevin Fitzpatrick, News Reporter
Kevin is a News Reporter at the Wire. He is a junior from Barrington, IL studying journalism and minoring in advertising and digital media.

In his free...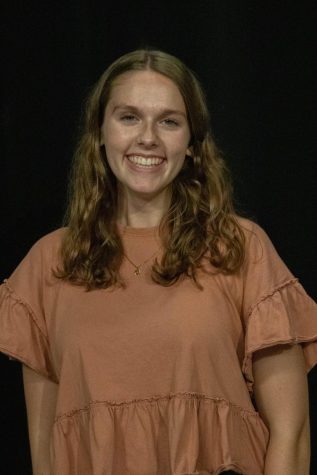 Isabel Bonebrake, Chief Photographer
Isabel is the Chief Photographer for the Marquette Wire and oversees the photo desk. She is a junior from Frankfort, IL majoring in journalism and minoring...