Urban scholar receives inaugural Bucks fellowship
With an emphasis on opportunity, Marquette's urban scholar Christian Golden said he recognizes the importance of making the best of what you're given, hoping to create chances for others to do the same.
Golden is the inaugural Bucks urban scholar fellow, a result of a new program started by the university to give urban scholars the ability to gain experience working with professional sports organizations in Milwaukee. Sumathi Thiyagarajan, a Marquette alum and current vice president of business strategy and analytics for the Milwaukee Bucks initiated the program. Golden was announced as the inaugural fellow at the university presidential address last Wednesday.
"Opportunity, it's one word but it holds a lot of weight. So as far as what I see with urban within the next couple of years is partnerships everywhere, not just with the Bucks, not just with the Marquette men's basketball team, but in corporate spaces as well," Golden, a junior in the College of Communication, said. "Let's say you're interested in nursing, what program can we create to make these filler gaps just like a program was created for me?" 
Introduced in 2006, the Urban Scholars Program annually awards 45 full-tuition scholarships designated for high school seniors in the Milwaukee area.
"She [Thiyagarajan] really wanted to provide unique exposure to careers in sports entertainment with the Milwaukee Bucks each season. She worked with the university to create the Bucks fellowship for select juniors and seniors in the urban scholars program," University President Michael Lovell said.
Thiyagarajan said she believes it is important to give these types of chances to students from the Milwaukee community.
"A person for others, Christian is highly engaged in the community as a united way boys and girls club volunteer, peer mentor and office assistant for the Marquette EOP program," Thiyagarajan said. "We are confident that he will be the difference as he joins our team as the inaugural Bucks fellow."
Golden said he would not have attended Marquette if it weren't for the Urban Scholar Program, believing it important to see someone from your community succeed.
"There's so much talent in the city. A lot of times you can feel pressured into what your environment portrays," Golden said. "This guy used to be my Link Crew leader or this guy was on student government, somebody that they actually seen in their community is doing practically one of their dream jobs to work in the league, more specifically the Milwaukee Bucks. So it's really essential for them to see that, but also make it tangible."
On his first day working for the Bucks, Golden was able to deliver a $10,000 scholarship to a student at his alma mater Rufus King High School. Golden was the Link Crew leader for the recipient, Russell Morgan, a current senior at Rufus King.
"So while he was a first-year, I was his mentor to help him navigate through high school. So that came back full circle for sure," Golden said. "It was literally my first day and I'm just like, this was an amazing experience to get started right away, right in the community. The community is important."
Golden understands that he has a responsibility, being the inaugural bucks fellow, to set a precedent for the future of the program.
"What I can do is do my job and do it well. With me being the first fellow, I kind of set the tone for everyone else. So absolutely there's a burden of privilege. The privilege is that I get to work in this space, but the burden is I have to do it well because I want other students to have the opportunity to come in. I don't want it to be like 'ohh Christian didn't do a good job here, so the urban scholars won't do a good job here,'" Golden said. 
Golden said his goal is to continue his work with the Bucks after graduation, citing a passion for philanthropy.
"Use my role, use my responsibilities to provide the platform, basketball gives us the platform to all come together like the time we won a championship," Golden said. "Everybody in Wisconsin, no matter if you're from Milwaukee, Racine, Waukesha, we all can be together. So with the Milwaukee Bucks having that platform, they're really good at using that platform to make a change. So how can we make this change?"
This story was written by Kevin Fitzpatrick. He can be reached at [email protected]
Leave a Comment
About the Contributors
Kevin Fitzpatrick, News Reporter
Kevin is a News Reporter at the Wire. He is a junior from Barrington, IL studying journalism and minoring in advertising and digital media.

In his free...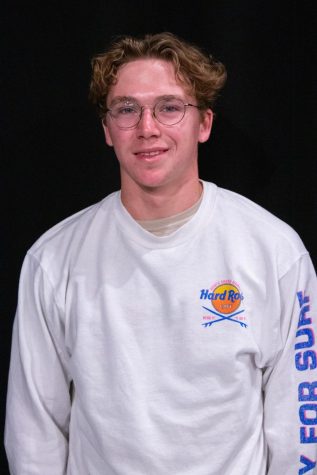 Forster Goodrich, Staff Photographer
Forster is a Staff Photographer at the Wire. He is a first-year from Lyme, NH as an undecided major in the college of communication.

In his free time,...