Prosper finds rhythm in second half as Marquette fights off slow first half for victory
NEW YORK — For the entirety of the first half Tuesday evening at Carnesecca Arena, St. John's was getting everything it wanted. It was using its size to its advantage, forcing turnovers and holding Marquette to limited shots.
Then the tides of the Hudson River opened up.
2⃣3⃣ in the second half for Omax Prosper! @MarquetteMBB x #BIGEASThoops pic.twitter.com/GD161YOcBt

— BIG EAST MBB (@BIGEASTMBB) January 4, 2023
Behind another strong second half finish and 25 points from junior forward Olivier-Maxence Prosper in the half alone, the Golden Eagles overcame their first half woes to defeat the Red Storm 96-85.
"I thought our guys did a great job responding to our staff's halftime message, which had nothing to do with basketball directly," Marquette head coach Shaka Smart said. "It was about how we act, interact and respond.
"Out there on the floor. On the bench. Our commitment to our circle. Our connectivity as a group. And I thought we were below our standards in those things in the first half. And that created a defensive effort that allowed them to shoot 66%."
Marquette has won six of its last seven games and are out to its best start in Big East play since 2018-19 with a 4-1 record.
Play of the Night 
St. John's forward David Jones threw down a dunk on a fast break to give the Red Storm a 83-79 lead with 3:14 left in the second half.
But Golden Eagles junior guard Tyler Kolek quickly took the inbound pass and found Prosper down court with a hit-ahead pass for the dunk and the foul.
"We say 'answer back,' "Smart said. "I got that from (Nebraska coach) Fred Hoiberg, I don't know, three or four years ago now. I love that mentality.
"If they score, answer back. And guys did a good job getting the ball out of the net, throwing it in, and then getting the ball ahead and then O-Max finishing. That was a big play."
Statistical leaders 
The Golden Eagles had a balance scoring attack. Prosper led the way with 29 points on 9-for-13 shooting, seven rebounds and a steal.
"He did a great job cutting, offensive rebounding and being ready to shoot and attack close outs," Smart said. "I'm not surprise when he rises up and makes an open three. … I thought he was rewarded with making threes by really playing the right way and playing with aggressive."
Sophomore guard Kam Jones had 16 points, six rebounds and two assists. Kolek finished with 14 points, eight assists, two steals and two rebounds. Sophomore guard Stevie Mitchell added 11 points, three rebounds and three steals.
Senior forward Joel Soriano was dominant inside the paint throughout the night for St. John's. The 6-foot-11 big man ended the night with 22 points and 13 rebounds. Junior guard Dylan Addae-Wusu added 21 points.
Rough Start 
St. John's, who entered the night on a three game losing skid, backed Marquette into its corner early. The Golden Eagles had four turnovers in the first 3 minutes and 14 seconds of the night.
"With St. John's regardless of who's in the game for them, because of how aggressive they are defensively, you can practice against stuff that they do but it's very hard to simulate," Smart said. "But our guys did a much better job taking care of the ball in the second half."
Much of the Golden Eagles defensive struggles in the first half came with the Red Storm using their size to their advantage by attacking the basket.
St. John's shot 17-for-23 on two-pointers in the half, seven of which came from Soriano who finished with 16 points in the first 20 minutes.
"He's a good player," Smart said. "He's going to score some. Guys with size around the basket are probably going to score some against us, just with the makeup of who we have.
"We can still be a good defensive team if we do some of the other things better. But I thought we got switched too much, that was one reason he got going. And then some of the plays down there we didn't have the level of violence that we had to have to keep him from getting the ball or keep him from scoring. Now he's a load, he's a good player, there's a reason he leads the country in double-doubles."
Golden Eagles Swing Fight 
Much like their win at Villanova Dec. 31, the Golden Eagles delivered with a stronger second half.
Marquette started the half on an 16-2 run, which was catalyzed by a defensive stop and a 3-pointer from Prosper.
"First half, we felt we weren't connected as a group," Prosper said. "As a unit. Our level of energy, we call those EGBs, they weren't high enough."
Defensively, the Golden Eagles held the Red Storm to 1-for-7 from the field to begin the half.
"We gotta be able to score and we didn't score early on. I thought that put a lot of pressure on our defense," St. John's head coach Mike Anderson said. "Marquette got comfortable and made some shots."
Marquette went up 76-66, after a 3-pointer from sophomore forward David Joplin. The Johnnies attempted to close the gap a few times but the Golden Eagles kept responding.
The Golden Eagles pulled away after Prosper's dunk in route to their third straight win.
Marquette held St. John's to 38.2% shooting from the field in the second half. The Golden Eagles also recorded seven kills on the night.
"The goal is eight but I think seven based on how the first half went, is pretty good overall," Smart said.
Up next 
Marquette will return to Milwaukee to begin a two-game home stand Saturday against Georgetown. Tip-off is set for 1 p.m. CST.
This article was written by John Leuzzi. He can be reached at [email protected] or on Twitter @JohnLeuzziMU. 
Leave a Comment
About the Contributor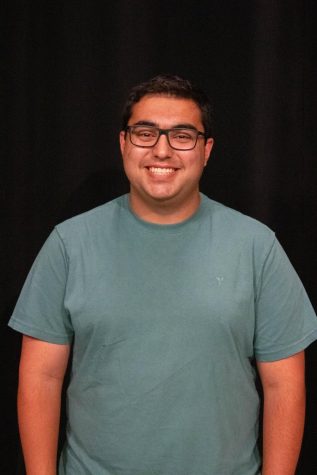 John Leuzzi, Executive Sports Editor
John Leuzzi is the Executive Sports Editor for the Marquette Wire. He is a senior from Mount Laurel, New Jersey, majoring in journalism and minoring in...