Marquette spirit squad serves as a sport of its own
"GO MARQUETTE GO" rings out from the Marquette Spirit Squad as they run out onto the floor at Fiserv Forum and the Al McGuire Center to cheer on the men's and women's basketball team. The crowd erupts behind them and soon the whole arena is chanting for the Golden Eagles.
Erica Byers, a sophomore in the College of Health Sciences, said the spirit squad is the sixth member for the team along with the students at the games.
"We give energy to the players and the students, but it's reciprocated, too, because the energy from the students and all the other fans helps us keep our energy up," Byers said.
Members come from varied backgrounds of cheering, dancing and sports said Jade Eitner, a senior in the College of Arts & Sciences.
"We are the spirit squad," Eitner said. "We're not just a dance team. We're not just a cheer team. We're all together in one. I think we have 16 dancers and around 15 cheer girls and 6 guys." 
While the spirit squad is known for their appearances at men's and women's basketball games you can also find them at select volleyball and lacrosse games as well as out in the community in the upcoming Grafton Christmas parade.
"Our coaches always say we are the face of Marquette because we do a lot of little appearances in the community like the Al 5k run and we hand out pizza with Shaka," Byers said.
Jalen Webster, a member of the cheer squad and senior in the College of Business Administration, said that being a part of the squad adds another layer of excitement for the group.
"When you are in such a big venue, you need sound to fill it. At NBA games, they have a DJ and play beats during play which is not allowed in college, so cheerleading and the dance team are very important to have everyone cheer in unison," Webster said.
Sami McCabe, a first-year in the College of Communication, said she was interested in being a cheerleader early on in her life.
"Every time I would go to a basketball game, I would never pay attention to the game. I would only be watching the cheerleaders. I come from an All Star Tour Cheerleading background so I knew that I wanted to continue that going into college," McCabe said.
McCabe said she was nervous to try out but knew she was meant to be on the team.
"I tried out in September. There were three days of tryouts, the first two days we learned some of the cheers we got to showcase some of our tumbling. We performed to a panel of 10 judges and some were alumni from the dance and cheer team so I was really intimidated but relieved when I got the email saying I made the team," McCabe said.
While cheering and dancing may be seen as a very competitive sport, the spirit squad works hard to make sure all members of the team are ready to step foot on the court. 
"We all have the opportunity to perform however, our coaches do remind us that it's a privilege and if any one of us is genuinely not ready for a game our coaches want to help us by only allowing us to perform and go on the court if we're fully ready for it," Eitner said.
Webster said being a part of the squad takes physical and mental strength. 
"Everyone has to do their job as well, and it has to be mentally there and focused for it to work well, or else someone will fall. You get tired physically, so you have to mentally have that toughness to keep going throughout the game," Webster said.
Eitner said practice is more than just twice a week for two and a half hours to prepare for game days. 
"Every day in a sense is dedicated to the team whether that's resting and icing and taking care of yourself, stretching or going and getting some cardio," Eitner said. "We do technique and skills at practice, but for the last 30 minutes we do conditioning to make sure everyone is keeping up their stamina and strength," Eitner said.
McCabe said being able to pull off what they have been practicing is rewarding. 
"Being able to keep the same energy with the same stamina for the entire game is probably the hardest part, as well as all of the tricks that we do and the stunts it is really physically tough but it's such a great feeling when you're actually able to hit that stunt ," McCabe said.
Win or lose the spirit squad will continue to lead the student section and fans to cheer on the blue and gold.
"We're just dedicated to our teams and we're there to support them. It's our responsibility to make the entire crowd just as excited to support our teams as we are so we are the game hype man," Eitner said.
This story was written by Catherine Fink. She can be reached at [email protected] or on Twitter @CatherineFinkMU.
Leave a Comment
About the Writer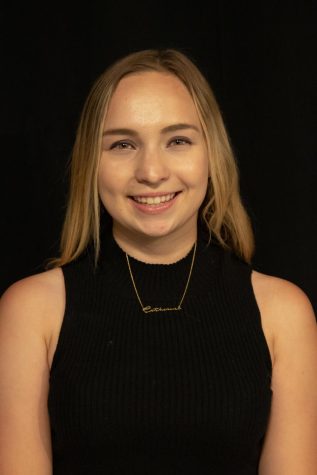 Catherine Fink, Sports Reporter
Catherine is a Sports Reporter at the Wire. She is a sophomore from Milwaukee, WI studying corporate communication and minoring in information systems...