Women's group on campus aims to empower, inspire
In the top 50 Wisconsin public companies, 23.3% of the board members are women and 39% of newly elected directors are women, according to the Milwaukee Women Inc. 2021 research report.
"Women must be supported in positions of leadership — not just recruited for leadership positions, but actively retained, promoted, and given responsibilities that they deserve and want," Melissa Shew, teaching associate professor of philosophy and co-director of the Institute for Women's Leadership, said in an email.
IWL's mission is to empower women and advance women's leadership.
A few of IWL's goals for this year are to host a women's empowerment workshop, co-host a civic dialogues event and fund multiple research projects.
All of IWL's goals and priorities are centered around three strategic pillars: conducting actionable research, creating transformational experiences and relationships, and the elevation and development of women leaders.
In September, IWL announced the new leaders. Jennica Webster, associate professor of management in the College of Business Administration, is now the director of IWL. Leah Flack, chair and professor of English, is co-director alongside Shew.
Flack, Webster and Shew said that they want to continue to expand the work that IWL is doing.
In her new role, Flack said she will focus on supporting the research community and helping translate their work into transformative action.
"I was drawn to this position because I'll be able to translate my research and that of the amazing scholars on campus studying gender from different disciplinary perspectives. Supporting the success of others is part of my DNA as a person and leader," Flack said in an email.
Flack said being a woman and a mother pushed her to make a commitment to gender equity and justice. She plans to listen to all women on campus to understand the strengths and needs of the community of women leaders and researchers.
"I think that all organizations benefit from truly inclusive leadership. There's no justification for the highest levels of leadership in every organization to not have significant representation by women, and it's critical that the women at the table aren't just white cis women, but include BIPOC and LGBTQ+ leaders," Flack said in an email.
According to the Milwaukee Women Inc. 2021 Research Report, 4.5 % of board members and 19.3% of women directors are women of color.
In her new role, Shew said she will collaborate with the IWL team to develop programming, implement research and advocate for gender equity. She plans to work with women leaders in Milwaukee as well.
"I hope to coordinate a panel and workshop on joy for women at work in relation to a white paper I'm finishing right now for IWL on the topic, continue the inclusive research series, IWL SHINES, to shine a spotlight on people doing research beyond tenure stream lines (e.g., graduate students, participating faculty, teams of faculty and undergrads, etc.), and facilitate a joint event for our Women Who Write series that started last year," Shew said in an email.
Shew said that the COVID-19 pandemic caused some women to "downshift" their careers and make changes that men did not have to make. Shew said that some women had to sacrifice their professional goals and that will have negative repercussions.
"Women of color are especially affected in these ways, so as we think about what leadership looks like for the future of organizations, it must include listening to what women from all backgrounds are saying they need to lead from a position of strength, not a position of reacting to the status quo," Shew said in an email.
As the Director of IWL, Webster will make sure that Marquette helps shape the dialogue about the critical role of women leaders in society today.
Webster said that research shows the impact of women's leadership, but companies don't take advantage of women's leadership.
"We know that companies with more women in leadership positions outperform those with fewer across a host of metrics ranging from financial performance, market success, internal culture, and employee engagement," Webster said in an email.
Webster said women are rated highly on the characteristics needed to be successful leaders.
Flack and Shew said that they are inspired by women in leadership at Marquette.
Shew specifically highlighted Andrea Schneider, Jeanne Hossenlopp, Jennifer Maney, Heidi Bostic and Jennica Webster. She said they all are determined to make a positive change, give a voice to everyone and empower others.
"I have been fortunate to work with all of these women at Marquette, some more at a distance and some up close, and really do pay attention to seeing how all of them make decisions that try to move us toward a more equitable and just campus and world," Shew said in an email.
Flack said that the women on Marquette's campus are paving the way for a better Marquette and have had a strong impact on her view of women's leadership.
"When women's voices aren't heard and their ideas aren't considered at executive or leadership levels, important sightlines, points of discussion, and ideas just go mission, and we all lose out," Shew said.
This story was written by Hannah Hernandez. She can be reached at [email protected].
Leave a Comment
About the Writer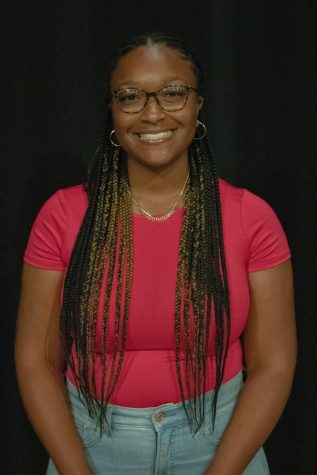 Hannah Hernandez, Assistant News Editor
Hannah is the Assistant News Editor at the Wire. She is a senior from Milwaukee, WI studying journalism and minoring in Spanish and writing intensive English.

In...