When dust settles
Editor's Note: This story contains opinionated statements regarding anxiety.
It's always fine after it's over. The breathing gets easier, realizing that the air is fully filling up your lungs. The haze of panic that once hung heavy in the mind has begun to dissipate, the hair on your arms that once stood erect now  blowing again with the breeze. It only takes a matter of seconds, but it can take hours and even days before the dust settles: before the panic attack has finally ended.
The cause  may differ, but the response still remains the same. I know it's happening and I will it to go away. I know I'm not alone. American College Health Association Fall 2021 National College Health Assessment notes that 27.4% of college students have reported ever being diagnosed with anxiety. However, when it's happening, one idea takes over my head: "I feel alone." That's what the anxiety wants me to feel, but I won't let it win. Here are some ways I have found to win the battle against your my brain that may be helpful for you.
The first method, and the hardest one for me, just so happens to help the most. I talk it out with the people I care about. Sometimes they may be the people I am most worried to share with, but they are the ones who remind me that they love  me no matter what. It allows me to release the feelings into the open with someone  I trust, and the reassurance grounds me.
Once the hard part is over and once the words have made it out, it's all about waiting for the dust to settle, waiting out the panic until it's just a memory. The best way I've found to do this is to escape to another world, whether that be by getting lost in a good book, a favorite movie or a song. Enjoy a hobby like drawing or painting. I find something familiar and comforting like watching a show or reading a books I had put off due to other stressors like work or school.
If sedentary activities aren't enough, escape physically. For example. going to the gym and doing a workout or taking the bus to a place that brings you comfort. It can be as simple as curling up in the nook of your favorite coffee shop or taking the train home. I find that the people who are my family, whoever that may be, always welcome me with open arms. further pain on my body and mind. Sometimes it seems like I'm  giving in, that  I'm weak.
I find that doing whatever  I need to is the only way to move on without inflicting However, I try to remember that I'm putting myself and my needs first for a change. Sometimes it seems selfish and scary to me, but it's healthy. An article from MSNBC brings up the teachings of Brene Brown who says that loving yourself first is not only imperative for creating your own happiness, but giving yourself the foundation to love others.
As I sit on the train, watching the grass once brown and wrinkled beginning to regain color, I worry that I did the wrong thing. I worry about what my friends will think about my departure. I wonder what my mom will think as she smiles and embraces me with warm arms, but something is different. As I get lost in the score of my favorite movies, with the whisper of the train's wheels, I feel the panic dissipating. The air suddenly flows easily. As the train comes to a stop, I grab my belongings and leave the worry behind.
This story was written by Anna Houston. She can be reached at anna.houston@marquette.edu.
Leave a Comment
About the Contributor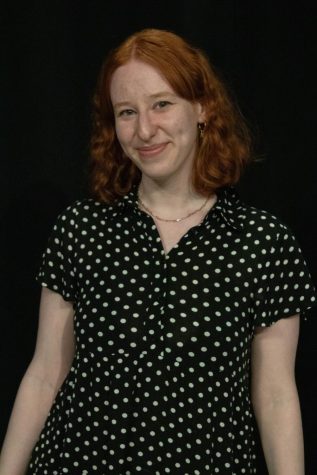 Anna Houston, Marquette Radio Publicist
Anna is the Marquette Radio Publicist at the Wire. She is a senior from Arlington Heights, IL studying corporate communication and public relations and...