President Lovell delivers presidential address in person
Marquette University President Michael Lovell gave the presidential address to the Marquette and greater Milwaukee community where he discussed many new projects such as new buildings, fundraising and overall wellness of Marquette's campus on March 3.
One of the main topics presented was the university's plan to transform the Helfaer Tennis Stadium and Recreation Center to the Wellness and Recreation Facility by 2024.
Although no groundbreaking date has been set, the fundraising, design process and programmatic planning have already begun.
The facility is designed to combine fitness and recreation facilities with the Counseling Center as well as the Marquette University Medical Clinic.
Lovell said in his address building this facility will be a key part of the university's Campus Master Plan. He also said this facility will create a culture of wellness on campus.
"We think about student success, we cannot … overlook the fact that wellness of our student body is extremely important to their overall success," Lovell said. "I know from talking to students [that] the very highest priority for them today is around mental health and whilst ensuring that our campus provides those services that our students need to be successful."
Another project the university is working on is the new business administration school. It is set to be completed in December of 2022, although classes will begin in January 2023 for the spring semester. Lovell also announced the building will be named the Dr. EJ & Margaret O'Brien Hall by wish of the lead donor who kept their name anonymous.
Danny Blachowicz, a first-year in the College of Business Administration, said it's exciting to see the new business building's progress in its construction every day.
"It definitely was a big reason in me coming here and I think it's important to give the business building an upgrade," Blachowicz said in an email. "I am so excited for it to be done and I can't wait to see how it turns out."
Similar to Blachowicz, Valentino Kadile, a sophomore in the College of Business Administration said that he is also excited for the new building to be finalized.
"I'll be living in the Lark next year, so it's going to be really nice to walk a short distance from my apartment to my business classes," Kadile said in an email.
There will be a plan to honor the late dean of the College of Business Joe Daniels through the university has revealed no other details.
Joe Daniels was the former Dean of the College of Business Administration.
After O'Brien Hall allows classes to be held in the building, David Straz Hall will be converted to a College of Nursing facility hopefully by 2024.
"We envision … once we open the facility we will build to prepare and train 5,000 nurses over the next decade," Lovell said. "This is a tremendous step forward for our nursing school."
Creating the Lemonis Center for Student Success, alumnus Marcus Lemonis, Marquette University 1995 graduate, and his wife, Bobbi, donated $15 million to create the facility.
Lovell said the center is aimed to support student success and wellness by providing one space for students to go. Lovell said they hope renovations within Memorial Library to create the center will be completed in 2024.
"When you think about what we can provide our students in terms of welcoming space for everyone, the place where everyone can come and feel like they have a home- that they have the resources they need, that we break down barriers and provide frictionless services so that any student, no matter what they need they can go to one place and have access to it at an individualized level," Lovell said.
Lovell also brought up Marquette's Time To Rise campaign successes, as $566 million out of the $750 million goal has already been raised.
Lovell said December of 2021 was the month that raised the highest amount of money in the history of their campaign, raising $45.5 million.
"By Dec. 31, we'd already exceeded our yearly campaign goal of $90 million," Lovell said. "What makes me most excited is that number on the right, the 53,000. The number of our alumni and friends that are investing in our university."
44% of those who donated to the Time To Rise campaign were first-time donors.
Time To Rise is Marquette's $750 million campaign to raise money to further support students, faculty, the campus and communities.
This story was written by Julia Abuzzahab. She can be reached at [email protected]
Leave a Comment
About the Contributor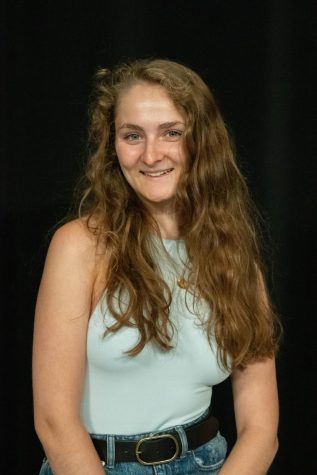 Julia Abuzzahab, Executive News Editor
Julia is the Executive New Editor at the Wire. She is a junior from Wausau, WI studying journalism and minoring in film & media studies.

In her...