Marquette's offense finds its groove during four-game winning streak
After starting BIG EAST play 0-3 and struggling on the offensive side of the ball, the Marquette men's basketball team has turned the corner over the past couple of weeks, winning four-straight conference matchups after their latest win against No. 20 Seton Hall Jan. 15. 
During the team's four-game winning streak, the Golden Eagles have played their best basketball offensively throughout the season, as they've averaged 85 points per contest over the stretch. As a team, the Golden Eagles rank sixth with 75.2 points per contest throughout the first seven games of conference play. 
The offensive explosion over the last few games started against No. 16 Providence when the Golden Eagles routed the Friars 88-56.  The 32-point win was the largest margin of victory over a ranked opponent in school history and was tied for the team's season-high in points at the time. 
That record would only last three days however, as the Golden Eagles would light up the court once again, this time at Georgetown Jan. 7, putting up a season-high 92 points and winning by 28.
The Golden Eagles would bring their offensive momentum back to Milwaukee the following week Jan. 11 when the team defeated DePaul 87-76 thanks to a career-high 25 points from redshirt junior guard Greg Elliott off the bench.
Although Marquette struggled from the field for most of the second half against Seton Hall on Saturday, they managed to escape with a 73-72 win after graduate transfer guard Darryl Morsell finished the game with 26 points, which tied his career-high. Marquette also went 11-for-22 from the 3-point line throughout the contest.  
So, what's started to click for the Golden Eagles offensively midway through the season? The answer is simple: relying on one another.
"Every team goes through twists and turns over the course of a year and they have to learn that the only way to be their best is together and truly committing to something larger than themselves," head coach Shaka Smart said. "And our guys have done a great job (with that)."
Dating back to the double-overtime loss to Creighton Jan. 1, Marquette has had a different leading scorer in each game, with each of these players recording at least 20 points. 
In addition to Elliott and Morsell leading the way against DePaul and Seton Hall respectively, redshirt first-year forward Oso Ighodaro posted a career-high 22 points against Creighton.
Additionally, redshirt first-year forward Justin Lewis had 23 against Providence and redshirt first-year forward Olivier-Maxence Prosper had a career-high 22 at Georgetown. 
"Of the 10 previous wins, we've had nine different guys get voted by their teammates as domino of the game so that's an indication of the fact that we're a team that is going to benefit from having strength in numbers," Smart said. 
Marquette's ability to spread the ball around efficiently has also been boosted by the play of redshirt first-year guard Tyler Kolek, who hasn't contributed through his scoring, but by creating opportunities for his teammates.
The reigning A-10 rookie of the year currently leads the BIG EAST in assists per game, with 7.7 per contest after collecting a total of 33 in just his last four games. 
Overall, the Golden Eagles have played team basketball when it comes to spreading the wealth around, as Marquette has assisted on 94 of its 129 made field goals throughout the four-game winning streak. More so, the Golden Eagles rank second in the BIG EAST in assists with 17.7 a game and rank first in the conference in terms of assist/turnover ratio of 1.4.
"We know that we're a much better team when we use all of our weapons and we all play together," Elliott said. "We don't have a one-man show." 
Marquette's active defense has also helped the blooming offense as forced turnovers and deflections have resulted in an abundance of transition points for the Golden Eagles. Throughout the last four games, Marquette has won the transition battle in each contest, outscoring its opponents 88-47 in terms of fast break points during that stretch. 
"We're so much better when we play transition," Prosper said after the Georgetown win. "By getting deflections, getting steals, having guys like Kur (Kuath) at the rim who can block shots that can get us going every time. We have great athletes on this team and have guys who can make great decisions in transition." 
The Golden Eagles have improved their offense at the right time, as Saturday's win marked the first of a six-game stretch that features BIG EAST teams currently ranked in the national poll.
With upcoming fixtures against No. 14 Villanova, No. 17 Xavier, No. 23 Providence and a rematch at Seton Hall, the Golden Eagles will need their offense to continue to click these upcoming weeks to keep their NCAA Tournament hopes alive.  
This article was written by Sam Arco. He can be reached at samuel.arco@marquette.edu or on Twitter @SamArcoMU. 
Leave a Comment
About the Contributors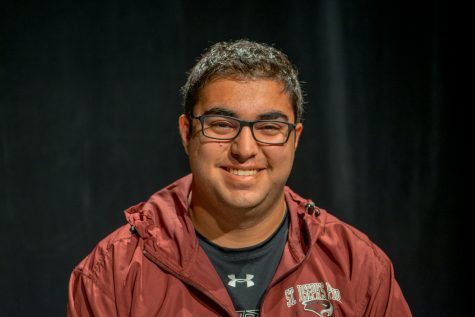 John Leuzzi
John Leuzzi is the executive sports editor for the Marquette Wire. He is a junior from Mount Laurel, New Jersey, majoring in journalism and minoring in...