Internships during the pandemic
Internship coordinators at Marquette are attempting to find students internships in person or online so that they are still able to gain work experience, even during the COVID-19 pandemic. 
Last summer, the New York Times said many people struggled to find internships.
"Summer internships have been upended by the pandemic, with a wide range of major companies, including tech firms like Yelp and entertainment behemoths like the Walt Disney Company, canceling programs and rescinding offers," the New York Times reported in May 2020.
Karen Hoffman, an adjunct professor of political science and associate director for the Les Aspin Center of Government, said that she is currently finding students internships. 
Les Aspin is a center at Marquette that offers internships focused on policy making in both Washington D.C. and Milwaukee.
"Because I work with internship programs, there are a number of offices that I work with a lot," Hoffman said. "If some of the offices don't have an in-person internship, they direct me to some offices that have them." 
Sheena Carey, internship director for the College of Communication, guides students in the college to find internships.
"Students usually come to me if they are not sure where to look for internships and I provide them with resources," Carey said. "I also push out information generally through my Twitter account, which is attached to the internship website, so that students have access to that."
Hoffman said that the students she has placed in internships that have occurred virtually have been satisfied with their experience.
"Even though students want in-person experiences, I have been pleasantly surprised at the feedback from students that have done remote internships," Hoffman said. 
Carey said that the internships she finds for students vary depending on the organization.
"Some internships may identify in the description as being in person, or they may identify as being remote," Carey said.
Wendy Volz Daniels, internship coordinator in the social and cultural sciences department and adjunct associate professor, said a few students she found internships for were in person. 
"They're doing internships with agencies that were classified as essential critical workers, or they were organizations that provided that type of service," Volz Daniels said. "As a result of that, the students were able to be in person."
The Kleczka Program, which is on Marquette's campus, places an applicant in a Milwaukee legislative office or organization. 
"Most of the internships I find for the Kleczka Program, which is the Milwaukee internship program, are in Milwaukee," Hoffman said. "We really try to find positions where students don't need cars."
The Kleczka Program is a local program where students can learn about public policy.
Hoffman said that in-person internships will vary depending on what the organization is what the Center of Disease Control and Prevention guidelines will be during that time.
"I think the real test is going to be over the summer," Hoffman said. "I'm placing people right now and I'm not sure how that will work, but for some students, it may not be completely in person.  They may have them come in maybe one or two days."  
Volz Daniels said that as an internship coordinator, she communicates with the students frequently to ensure that they are able to receive the type of internship they are looking for.
"I have a conversation with each student about their path to Marquette, past Marquette, where they want to go after Marquette, and what might be a good internship for them," Volz Daniels said. 
Carey said that remote internships can be just as beneficial as in-person internships.
"What's nice about the virtual internships is opportunities that students wouldn't have had access to, so you can do a virtual internship with a company that's based in New York," Carey said.  
Hoffman explained the hardest part of her job in finding internships for students. 
"I think maintaining all the contacts and growing them," Hoffman said. "You have to spend the time to develop relationships."  
Leave a Comment
About the Photographer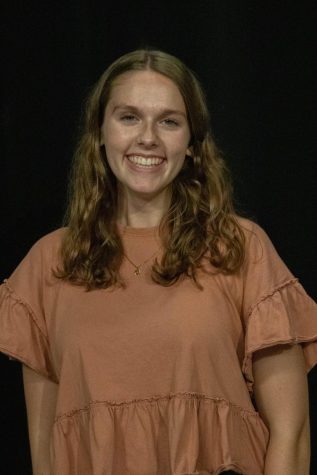 Isabel Bonebrake, Chief Photographer
Isabel is the Chief Photographer for the Marquette Wire and oversees the photo desk. She is a junior from Frankfort, IL majoring in journalism and minoring...