Employee resource groups create spaces for faculty and staff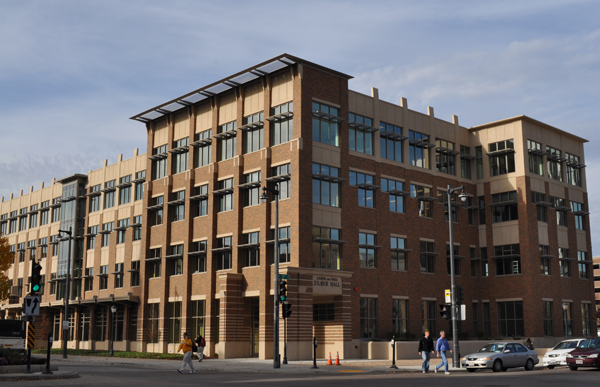 Employee Resource Groups are organizations for Marquette staff and faculty ever since it was sponsored by Marquette in 2015.
ERGs include the Hispanic/Latinx Faculty and Staff Association, LGBTQ+ Resource Group, Marquette Black Faculty and Staff Network, Marquette Moms, Marquette Social Professionals, Women of Color Employee Resource Group, and the Women of Marquette Resource Group.
"The purpose of ERGS is to promote a sense of community, build personal and professional networks, enhance employee support and retention, and assist in attracting new employees to Marquette to foster a diverse and inclusive community," Jacqueline Black, associate director for Hispanic Initiatives, said in an email.
Because of the leadership within each ERG, professional opportunities are being created for the chairs of each group.
"ERGS also offer a stronger connection to university administrators as each group has a liaison in the University Leadership Council, who serves in a supportive role, providing advice and representing group interests to the ULC as appropriate.
Another great advantage is that ERG Chairs meet on a regular basis and form supportive connections across groups. And in collaboration with the Department of Human Resources, we are developing professional development opportunities for ERG chairs as well," Black said in an email.
Marquette Moms, an ERG at Marquette, shared how communication works within this tightknit group and how they get members to join their ERG.
"We advertise the group to new staff and faculty, through a Marquette Today and through word of mouth," Brigid Alba, co-chair of Marquette Moms, one ERG said "We communicate with one another mostly through Microsoft Teams. We share helpful articles and more to promote work life balance and self care."
Each group has a different amount of members, but there are other ways to get the ERGS known throughout Marquette's campus.
"During new faculty/staff orientation information about the campus ERGs is shared people are encouraged to seek out the group(s) they would like to join," Yvonne Printz, co-chair of the Hispanic/Latinx Faculty and Staff Association, said in an email.
Activities within each ERG group differ, but every activity brings the group together as a whole, despite coronavirus.
"We also try to have a retreat day once per year and run a service project at least once a year. We have collected items for Project Night Night, … and most recently we ran Marquette Masks where we joined with the other ERG's and MU faculty and staff to collect material and make homemade cloth masks for essential workers on campus," Alba said in an email.
Project Night Night is an organization of staff members that put together tote bags for homeless youth.
Because of COVID-19, it has been difficult for ERGS to meet up in person, but prior to that, there were events and unique projects that were offered within each group.
"We get together on teams once every month and a half, or two months. We discuss planning activities, social events, and trying to set up service projects. We help out every year with Pride Prom, at least we have until last year. We have participated in the H Run and other local service projects and a variety of activities like that," Dr. Christopher Stockdale, co-chair of the LGBTQ resource group, said.
Despite differences among staff members' backgrounds, ERG groups can be beneficial for a multitude of reasons.
"It provides a sense of community if nothing else. It's really hard, especially if you're LGBTQ+. Unless you wear a badge saying 'hey I'm proud and out' it's really hard to tell who's out or not out, or who identifies. In that sense it's a minority that's really hard to build a community and it's hard for some people to ask questions. It provides a safe environment for people on campus to communicate with each other," Stockdale said.
Like the LGBTQ group, the Hispanic/Latinx Staff and Faculty Association values its community and the values they hold. Such as engaging with Marquette and local communities as leaders with commitments to Catholic and Jesuit teachings.
It is nice to connect with others outside of your department with these values in mind," Printz said in an email.
This story was written by Natalija Mileusnic. She can be reached at natalija.mileusnic@marquette.edu.