University reacts to parties still taking place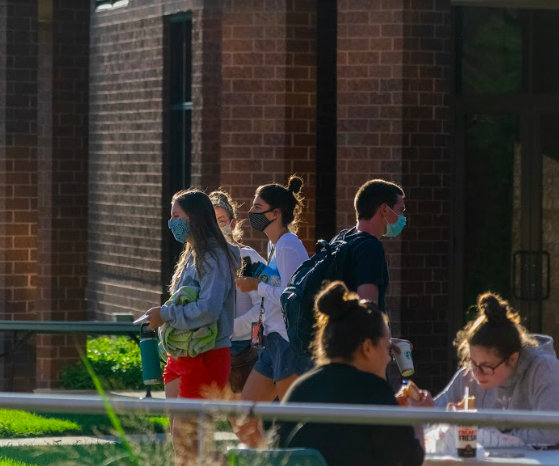 Marquette University students signed a pledge at the beginning of the fall semester in order to maintain the best possible response to the coronavirus pandemic. A line within the pledge stated that students would "refrain from organizing, hosting or attending events parties, or other social gatherings off-campus that may cause safety risks to (them) and other members of the community."
All students were required to read and sign the pledge before returning to classes.
But before classes started, multiple large social gatherings had already occurred despite the university's guidelines prohibiting gatherings of more than 50 people.
One of these gatherings was last week around 17th St. and Kilbourn Ave., where several members of the Marquette community attended a party outdoors without social distancing or wearing masks.
Jonathan Jimenez, a senior in the College of Education, said that he has seen these large gatherings on Kilbourn Ave. happening daily with no masks, which leaves him to have low hopes for the fall semester continuing in-person instruction.
Jimenez has been on campus for the whole summer, and he said it was quiet when classes were not going on.
"It seems (like) everyone got back into the routine of, 'alright, let's go back to normal,'" Jimenez said, "I've seen groups of 10 to 15 people on every other block just walking and going in and out of houses."
Cece Starks, a sophomore in the College of Communication, who is immunocompromised felt that the parties were extremely irresponsible.
Starks said, "It shows me that not only do my classmates not care about human life on a global level but that on a personal level. They don't care about my life as an immunocompromised person. Essentially, I am worth less to them than one night of partying."
As of this week, the university has seen 11 positive cases, nine of which are students, a growth of seven  cases from the week of Aug. 20, according to Marquette's coronavirus dashboard. Milwaukee has seen over 1,800 cases in the last week.
"Helping to reduce the spread of the coronavirus is a responsibility that falls on us all and one we must all take extremely seriously," university spokesperson Chris Stolarski said in an email. "(Marquette's) students must take great care to follow the university's policies and procedures and public health guidance, which includes wearing masks, physically distancing and not participating in large, face-to-face gatherings, particularly indoors."
Stolarski said that other coronavirus outbreaks at universities across the nation have occurred in part due to large student social gatherings, like at the University of Alabama, where over 1,000 students have tested positive, which is about three percent of campus. Administrators and other health experts have expressed their concerns about the ability to control such off-campus social gatherings.
"We ask our students to make smart, responsible decisions in the best interest of protecting themselves, their friends and classmates, and the entire Marquette community," Stolarski said in an email.
Stolarski also said that any student who hosts any large social gathering or event without university approval is in violation of Marquette's Student Code of Conduct and will be subjected to disciplinary action based on that policy.
It is unclear what that disciplinary action is.
However, Tom Hansberger, a lecturer in the College of Arts & Sciences and member of the Academic Worker's Union, said that the fault doesn't fall on students, but instead on the university itself.
"While parties without masks and social distancing have been linked to coronavirus transmission, we shouldn't let administration shift the blame for their policy failures onto individual students," Hansberger said in an email.
Marquette's Step 4 Recovery Plan discourages any in-person social gatherings and will "enforce the City of Milwaukee's current guidelines related to gatherings in homes or public venues" regardless of whether or not they are on or off campus.
The Step 4 Recovery Plan overlays the protocols and regulations for having students return for the fall semester.
"In bringing students to campus, the administration has already signaled to students that they are safe here," Hansberger said in an email. "If students receive that message, the problem is not with the students but with the Lovell administration for designing a policy that does not fit the circumstances."
This story was written by Benjamin Wells. He can be reached at [email protected]
Leave a Comment