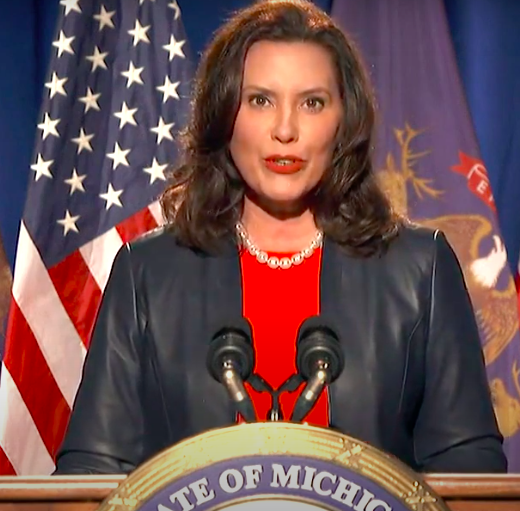 Governor of Michigan Gretchen Whitmer spoke at the Democratic National Convention Aug. 17., highlighting the importance of teamwork and taking action during these unprecedented times the nation is facing due to the COVID-19 pandemic.
Whitmer began her speech by praising former President Barack Obama and former Vice President and presumptive Democratic presidential nominee Joe Biden for their leadership in previous years, specifically during the Obama administration.
In 2009, when Obama and Biden were in office, the automotive industry faced "the worst economic crisis since the Great Depression," Whitmer said, with millions of jobs at stake. But Whitmer said Obama and Biden got to work right away, bringing union members, companies and lawmakers together to ultimately save the auto industry.
"President Obama and Vice President Biden saved these autoworkers livelihoods," Whitmer said. "Then these workers did their part to save American lives."
Michigan is home to the "Big Three" automotive companies; Ford, General Motors and Chrysler.
As the nation continues to battle COVID-19, autoworkers across Michigan are making protective gear for health care workers on the front lines.
"We have learned what is essential: rising to the challenge, not denying it," Whitmer said. "We have learned who is essential too. It's the people who put their own health at risk to care for the rest of us. They are the MVPs."
Whitmer also highlighted the importance of using science to combat COVID-19, protecting essential workers with the right medical equipment and providing more resources to students and teachers across the nation. She said she believes the Biden and Kamala Harris ticket will make these things a priority.
"Joe Biden and Kamala Harris will lead by example," Whitmer said. "It will be science, not politics or ego that will drive their decisions."
Whitmer continued to push for action by stating the high numbers of lives we have already lost, including the story of a 5-year-old girl from Detroit. Over 170,000 lives have been lost to COVID-19.
"Action begets action, progress begets progress, and when we work together, we can accomplish anything," Whitmer said.
Her speech was followed by a short montage in memory of the lives lost to COVID-19.
This story was written by Skyler Chun. She can be reached at [email protected].