Getting to know presumptive Democratic nominee Joe Biden
Joe Biden, the leading Democratic candidate in the 2020 presidential election, is planning to accept the nomination at the Democratic Nation Convention this week. The convention that was first set in Milwaukee is now virtual and meant to confirm a candidate for President and Vice President. Last week, Biden confirmed Sen. Kamala Harris as his official running mate. 
Biden was born in Scranton, Pennsylvania in 1942. He attended the University of Delaware, where he studied Political Science and played football. He started his career as an attorney and created his own law firm in 1971, before turning to politics. He was a senator for Delaware where he served as Chairman of the Committee on Foreign relations for several years and was one of the leading foreign policy experts.
After serving as a senator for Delaware, Biden was elected as the 47th U.S. Vice President, serving under Barack Obama in 2008. Together, Obama and Biden were re-elected for a second term in 2012.
As president, Biden has come out with policies that he would implement, including raising the federal minimum wage to $15 an hour. Additionally, he would support paid family and sick leave, believes two years of college should be free, wants to expand or fix existing debt-relief programs, wants to boost pay for teachers and believes unlimited spending should not be allowed in politics.
With that, Biden also wants to tax carbon emissions, pay farmers to use more environmentally friendly practices, is in favor of national firearm registry and is in favor for citizenship for Dreamers. He opposes medicare for all but wants to expand health care coverage.
Some students at Marquette shared their feelings on Joe Biden accepting the nomination, many expressing similar feelings of indifference, yet hopefulness towards Biden as a presidential candidate.
Lucila Radke, a junior in the College of Arts & Sciences, said overall, Joe Biden is the best option for president. 
"From my, albeit limited, understanding, he's not extremely liberal in a lot of areas, so I think he will hopefully be able to reach some borderline or right-leaning people," Radke said. 
She said many Marquette students seem to be opting for Biden, even though they do not fully agree with all of his policies.
"I think people are voting for Biden because he's the lesser of the two evils," Radke said. "Sort of like with the last election, I think people are seeing more and more clearly how Trump isn't doing a great job."
Radke said she agrees with Biden's stances on climate change and LGBTQ+ rights.
"(LGBTQ+ people) deserve the rights that they have been deprived of for so long," Radke said. "We also need to act now to make sure the planet can stay alive longer."
She said she feels the political clubs on campus, as well as Marquette's student body in general, are very passionate about having their voices heard.
Kyara Vazquez, a sophomore in the College of Arts & Sciences, said she does not fully approve of Biden. However, she said she thinks Biden is the best choice for her.
"I feel like so many people have decided to vote for Biden because he is winning the majority for the Democratic party," Vazquez said. "We also have a higher chance to get Trump out if we vote for Biden because he's the less racist out of the two … which is sad that we even have to think about that."
Vazquez said she agrees with Biden on some of his plans to ban assault weapons, ban death penalty and to remove confederate statues. She also agrees that universal background checks should be done for people who want to purchase firearms, and that tuition for public colleges should be free. She said she also feels that abortion should be legal.
"If it's not your body, it is not your choice to make on what others should do with theirs," Vazquez said.
Vazquez said she believes Biden is the person to deal with the current events of our nation, including Black Lives Matter protests and the COVID-19 pandemic.
"I think (Biden) is the best candidate for this because he believes in enforcing masks for the pandemic," Vazquez said. "We also need someone who knows that systemic racism is real and wants to root it out."
Despite believing that Biden is a good candidate, she remains critical of some of his other policies.
"Some (policies) I disagree with is universal childcare, I believe the government should provide it and he doesn't; wealth tax, I believe the U.S. should implement one, he doesn't; nuclear power, I believe the U.S. should not expand it, whereas he does; medicare, I believe the U.S. should switch to medicare for all healthcare systems."
For Addis Tang, a sophomore in the College of Arts & Sciences, politics is not something he usually keeps up with. However, this past year as an out-of-state student from Hawai'i, he said he has noticed big differences in students' opinions at Marquette versus friends from his hometown.
"There is 100% a difference in values and opinions regarding the upcoming election," Tang said. "I am from Hawai'i where people are generally a lot more friendly and open to changes as opposed to the continental United States."
Seeing all of the conflict within the nation right now has given him a new perspective on the importance of choosing the right candidate to lead the United States.
"I think seeing all the problems that have been going on around us really opened my eyes and motivates, or encourages, us to use our voice and rights as citizens to induce changes," Tang said. "Definitely the use of social media and just seeing other peers encourages more people to vote."
Many other students are also seeing the importance of being informed and using their voice this year.
"It is so important to vote this year," Vazquez said. "Voting can help you make a difference and we can make that known through our peers and spreading awareness of it on social media."
This story was written by Skyler Chun. She can be reached at [email protected].
Leave a Comment
About the Contributor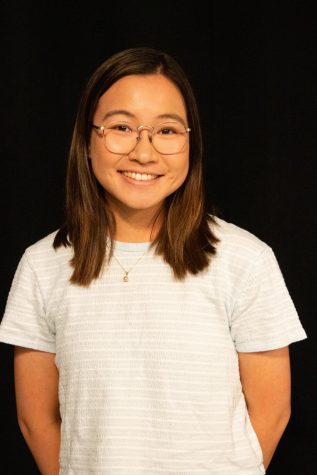 Skyler Chun, Executive Investigative Editor
Skyler is the Executive Investigative Editor at the Wire. She is a senior from Aiea, Hawaii studying journalism and international affairs and minoring...