BEG: Crediting TikTok content ethical for creators
The new viral application TikTok is currently taking over the internet. The social networking entertainment platform is owned by a Beijing-based company, ByteDance.
TikTok users create and share videos that can be up to 60 seconds long. TikTok was established in November of 2017 when it bought out the app Musical.ly, which only had around 200 million users. The application has all kinds of content from comedy to lip syncing to life hacks. It rose to popularity fast but especially in the last two years when the overall app downloads increased from half a million in 2018 to 1.5 billion in 2020.
A reason for this rapid rise in TikTok users is the sensation around dance videos. The application has become famous for dance trends that reach different users from all over the world. There is now a large community of people that can perform whole choreographed dances to a certain songs on command because of how far these dances spread.
The problem comes when these viral dance sensations are not rightfully being credited to those who created the moves.
Arguably, TikTok's most famous dance is the "Renegade." The Renegade dance has become so popular that celebrities such as Lizzo and the Kardashians are also participating in the trend online. The Renegade is a 15-second dance to the song "Lottery" by K-Camp that incorporates famous dance moves in pop culture like the "woah" and "dab."
The dance was first introduced to TikTok by a user named global.jones, whose video of them dancing to Renegade has 382,000 views. He did not credit the dance to anyone, but other users began to use the sound to perform very similar dances. One of the first users who really made the dance go viral was user mishandty.cxc, whose video got 18.6 million views. The two dancers also did not credit anyone when performing the dance. This was in October of 2019.
A week later, Charli D'Amelio, one of the most famous TikTok creators with more than 29 million followers, posted a video doing the same exact dance with the same song. Due to her following at the time, D'Amelio's post made the dance even more viral. Her video now has 35 million views, and users on the app everywhere were posting themselves doing the Renegade dance. Again, she did not give anyone credit. There are now 26.5 million videos using the Lottery song on TikTok.
D'Amelio is often credited with creating the dance. To the surprise of many users, the dance actually came from a 14-year-old named Jalaiah Harmon from Atlanta, Georgia. Harmon posted a video on Instagram of her and her friend doing the original Renegade dance to the same exact song Sept. 2019.
Harmon was finally given the credit she deserved during the 2020 National Basketball Association's All-Star Weekend Feb. 15, when the NBA invited her out to perform the dance. D'Amelio also posted a video with Harmon doing the Renegade dance with the caption "guys I would like to introduce to you @_.xoxlaii (Harmon's TikTok username) I am so happy that she was able to teach me the original choreography that she made."
All of this information is important because it has sparked an important discussion on the internet about the need to credit dancers for their original choreography.
To some people on the app, it is an unspoken rule that TikTok users should always credit the original choreographer when posting the same dance, as a sign of respect. Many times, if this does not happen, followers will spam the comments by tagging the original creator and calling out the user for not giving rightful credit. Some don't care about credit, and they continue to post videos without tagging the originator.
With the current legal system, it is almost impossible to legally claim a dance to a specific person. The Copyright Claim of 1976 specifically states that it does not pertain to "ordinary motor activities, social dances, commonplace movements or gestures or athletic movements." This is why other famous dances, like the Carlton, can continue to be used on various platforms without any legal consequence.
Although no legal action can be taken against these TikTok users who steal dances, it is the ethical principle behind tagging the original creator. It is simply the right thing to do when working with other artistic creators.
It is also not just a single move that is stolen, but rather a whole 15 to 60-second dance that is taken and posted on millions of users' pages. When the original creator is given rightful credit, it can open many opportunities for them to expand their talents on a larger platform.
D'Amelio has had multiple doors open for her, one of them being the chance to dance with Jennifer Lopez during her preparation for the Super Bowl LIV halftime performance due to the following she gained from posting other people's dances. D'Amelio is a dancer who also creates her own dances, but it is hard to show full support when a lot of her content is stolen.
Though a user may not have a large following, it is not right for other uses to steal their content and receive the fame from it. Dancers and artists in general have an ethical right for their work to be respected, and the chance for their work to be seen by millions of people no matter the size of their following.
This story was written by Aminah Beg. She can be reached at aminah.beg@marquette.edu.
Leave a Comment
About the Contributor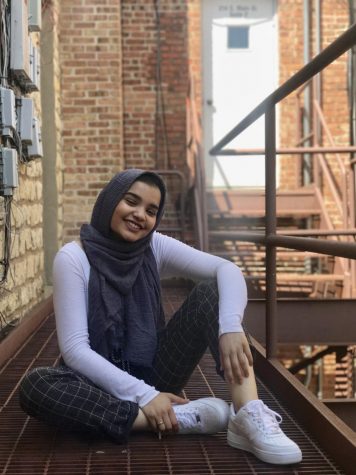 Aminah Beg
Aminah Beg is the assistant opinions editor for the Marquette Wire. She is a sophomore from Naperville, Illinois who is majoring in Public Relations and...