Community values service during chilly conditions
Winter can be a harsh season for all living in the Midwest, but it is the actions of those willing to serve others during the freezing winter months that try to keep hearts warm.
Griffin Knipp, campus minister for social justice and community outreach at Marquette, said he values the importance of giving back to the community.  
Knipp is also the coordinator for Midnight Run at Marquette, an organization that allows students to engage with the community through service. He said Midnight Run usually helps nonprofits working to solve hunger and homelessness. 
"Volunteers will go to different sites once a week for about two hours and serve alongside the community, all in an attempt to give some dignity to those in our community that maybe haven't received dignity often," Knipp said. 
With diversity in Milwaukee's cultural, ethnic and religious backgrounds, Knipp said one of the main goals of Midnight Run is to bring people together.
"(Midnight Run) is an organization that is reaching for solidarity with our community," Knipp said. "It's an attempt to live out the gospel and Matthew 25, kind of living with those who have less."
Matthew 25 highlights the importance of giving to others, especially at one's lowest points in life.
Amalia Liguori-Coneff, a sophomore in the College of Communication, said she tries to make the community feel more connected during these difficult times.
She said she really got to know the community better through her service at Marquette, participating in events like Midnight Run, Mardi Gras and Next Door Literacy Fellows.
"I think one of the reasons that I went to a Jesuit school is because of its mission and how it's based in places where you can have access to service," Liguori-Coneff said. "Coming from a place of privilege, I think it's important to recognize … and use your privilege to help others who might not be as lucky as you are."
Liguori-Coneff was able to see firsthand what happens in the lives of those less fortunate.  She said that getting off campus allowed her to feel a lot more connected to the community outside of Marquette.
"I think that service shouldn't be about you," Liguori-Coneff said. "There's always something to learn in all the different people within the community, and I've never regretted talking to the ones who I met through service."
Knipp said that at many of the Midnight Run sites, students are not always just behind the counter but also have the opportunity to have meals alongside and get to know the people they serve.
"I would say first of all, people experiencing homelessness, they're more complex than just 'homeless,'" Knipp said.
Service is not the only way that Milwaukee organizations are trying to help the community, despite the gloominess that hovers in the winter air.
Burnhearts, a bar located in the Bay View neighborhood in Milwaukee, will be hosting its eighth annual Mitten Fest Feb. 1 from noon to 8 p.m.
Aly Santiago, a bartender at Burnhearts, said that although events like this are typically meant for the warmer summer months, she said Mitten Fest began as a way to bring Milwaukee together during the harsh winter season.
Santiago said Mitten Fest will have live music, food, drinks and a table for selling Burnhearts merchandise. A portion of its profits will go toward benefiting Milwaukee's Hunger Task Force.  She said people are encouraged to bring canned goods and clothing.
Although Midnight Run does not work directly with Hunger Task Force, the two organizations assist one another through the work that they do.
"(Hunger Task Force) is more thinking about it in terms of the advocacy, peace and the systems in place to get food to people, whereas we are kind of helping more on the ground level," Knipp said. "We don't directly partner with (the task force), but we support the work they do. A lot of the places that we partner with couldn't do the work they do without the Hunger Task Force."
Aside from attending Mitten Fest or helping at Hunger Task Force, there are many opportunities to get involved with service both on campus and in the community.  Other organizations include Big Brothers Big Sisters, the Neighborhood House of Milwaukee and Capuchin Community Services.
This story was written by Skyler Chun. She can be reached at skyler.chun@marquette.edu
Leave a Comment
About the Contributor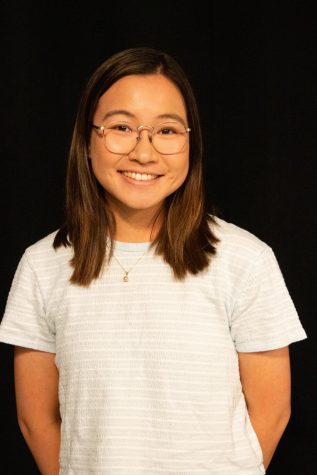 Skyler Chun, Executive Investigative Editor
Skyler is the Executive Investigative Editor at the Wire. She is a senior from Aiea, Hawaii studying journalism and international affairs and minoring...