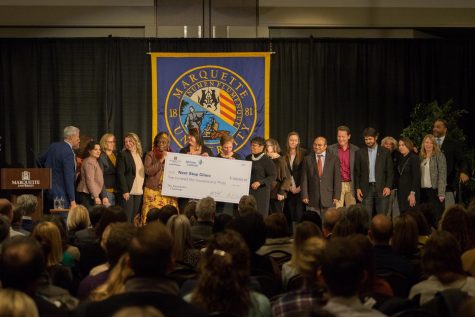 Earlier this past month, the Next Step Clinic, recipient of the first-ever Marquette University President's Challenge last year, officially opened its doors. Marquette Today stated how the clinic won the challenge as a result of, "its tailored approach to provide mental health resources, focusing on children and families afflicted with psychological trauma and mental health disorders that often manifest from violence, addiction, abuse and other high-stress situations. A family advisory panel steers the mission and structure of services provided in the clinic.
According to Next Door MKE, the President's Challenge is, "A grant program that targets interdisciplinary, collaborative projects that seek to change the trajectory of lives in our community by addressing areas where neighborhood inequities exist, including health, education, safety, housing, transportation and economic prosperity. 
Along with winning the challenge, University President Michael Lovell and Johnson Controls teamed up to award a $250,000 two-year grant to the Clinic.
The Next Step Clinic aids the Milwaukee Community by providing services for underserved children and their families. The clinic provides services such as trauma-focused therapy and family navigation. According to a university news release, the Jan. 9 event ran for 4 1/2 hours and took place at the Next Door Foundation, located at 2549 N. 29th St. 
According to the news release, the event featured five prominent speakers who all had important roles in helping the clinic get to this point. The speakers included Lovell; Amy Van Hecke, associate professor of psychology and co-executive director of the Clinic; Leah Jepson of the Milwaukee Coalition for Children's Mental Health/Mental Health America of Wisconsin; Grady Crosby, vice president of public affairs and chief diversity officer for Johnson Controls International; and Tracey Sparrow, president of the Next Door Foundation, according to the news release.
Van Hecke, a key contributor to helping making the clinic reach the point of its inauguration and first official week of operation, took time to reflect on various topics relating to the clinic. Van Hecke began by describing how opening day went from her perspective. Van Hecke helped the clinic reach its inauguration and the first week of operation. She said the opening day went well. 
"All of our major partners and most of the team was able to attend. Next Door organized the event, and their help was crucial in pulling the event off," she said.  
Van Hecke said it was wonderful to celebrate the hard work that was put toward opening the Clinic during the past year.
"There are so many moving parts to opening a new, collaborative, multidisciplinary endeavor like this, and it was really wonderful to be able to pause and celebrate how far we've come," she said. "We still have a lot to learn and do, but we're looking forward to it."
Furthermore, Van Hecke dissected the stages the clinic has undergone since winning the President's Challenge last year up until the present with the clinic having experienced its first week.
She said how the clinic started seeing families for Family Navigation in February of 2019. The first autism assessment case started on Halloween 2019. In between February and Halloween is when most of the clinic setup steps were taken.
Van Hecke said the Clinic looks forward to its next steps, including releasing the logo, vision and mission statements chosen by the Community Advisory Board, training more students, adding more partners and ultimately helping serve more families in the community. She also stated how since winning the award last January, specifically the clinic has accumulated four University partners as well as partnerships with local churches. Due to these efforts, families are coming from all over the city as the clinics outreach expands.
Jepson gave written thoughts on what is in store for the clinic this year.
"We will be adding additional services to address trauma in young children in 2020, and plan to add supportive mental health services for parents/caregivers as well, both individually and in groups after that."
Krueger said her role is to help train students.
"As a Marquette faculty partner with the Next Step Clinic, my specific role will be to train and supervise graduate students in speech-language pathology as they participate in the interprofessional developmental assessments provided at the clinic," Kruger said. "Students from the M.S. program in Speech-Language Pathology will be conducting speech and language testing on children who come to Next Step for autism evaluations". 
This story was written by Nick Magrone. He can be reached at [email protected].