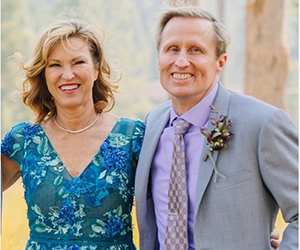 This past month, Marquette University received $5 million from 1986 alumnus Thomas Werner and his wife, Suzanne Werner, according to an Oct. 7 university news release. The donation from the Werner family will be utilized for first-generation scholarships. 
Thomas, the chief executive officer for SunPower Corporation since summer 2003, has been actively involved with Marquette since 2012 as a member of the Board of Trustees.
The donation will commence the brand new Thomas and Suzanne Werner Endowed Scholars Program for First-Generation Students. Along with providing aid for first-generation students in need, the Werner family's donation will support Ready to Inspire Success and Excellence, Marquette's pre-orientation program for underrepresented students.
The scholarship is a part of Marquette's strategic plan, Beyond Boundaries. This comes at a time when Marquette is celebrating the 50th anniversary of the Educational Opportunity Program.
"More than 20 percent of current Marquette students are the first in their family to attend college. With university leaders emphasizing a culture of inclusion, the university has nearly doubled its undergraduate student diversity from 15 percent in 2008 to 28 percent in 2019," according to the release. 
"It is always humbling when an alum and their family makes such a great contribution back to Marquette," Clara Dwyer, assistant director at the Center for Engagement and Inclusion said. "I am amazed by the generosity and consideration the Werner family has given to Marquette students who identify as the first in their families to attend college." 
Dwyer also gave insight as to how the scholarship will help first generation students. 
She said the donation is important because there is a certain humbleness that comes with the Jesuit educational experience.
"When a student comes to realize how much there is to learn and to develop a love of learning, a sense of excitement awakens, but a sense of gratitude comes along with it too," Dwyer said.
Dwyer said this applies especially to first-generation students because there is likely a person or people who made sacrifices allowing them to attend college.
"By making this important donation, the Werner family is paving the way for these students and providing the gift of a meaningful educational experience," Dwyer said.  
Acting provost Kimo Ah Yun shared his perspective on why this donation is important not just to students but to him as well.
"As someone who was a first-generation college student myself, I'm personally touched by the Werners' generosity — because of their gift, a Marquette education will be open to a greater number of talented students who are the first in their families to attend college," he said in an email. 
This story was written by Nick Magrone. He can be reached at [email protected].