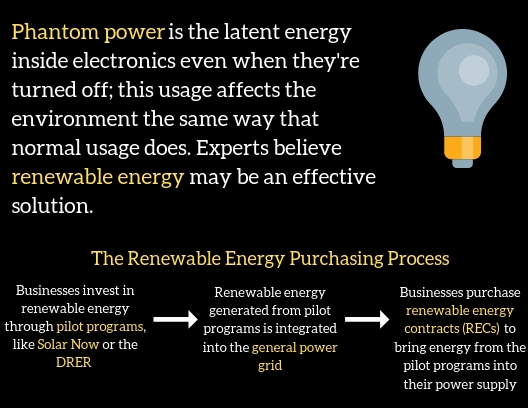 As students' laptops quietly charge and library computers go to sleep, the university's phantom load awakens.
Phantom power, or standby power, is the term for this phenomenon. Phantom power is the amount of power an electronic device uses while on its lowest power mode, according to the U.S. Department of Energy. When on standby, electricity still flows through these devices. At Marquette, phantom power composes 5 to 10 percent of Marquette's total energy use, says campus sustainability coordinator Brent Ribble.
Despite this, Ribble says there have not been any organized efforts to measure Marquette's phantom load.
Chargers, microwaves, televisions and desktop computers are just a few examples of electronics that utilize standby power. Nearly all electronics with an external power source, a continuous display, remote control or that charge batteries have standby power, according to Berkeley Lab.
Mark Federle, a Marquette engineering professor and the associate dean for academic affairs, says phantom loads make electronics more convenient and readily accessible.
"If you've ever shut off your cable box all the way and turned it back on, its initializing process takes five to seven minutes,"
Federle says.
Federle says from a design standpoint, it's easier for electronics to maintain a constant trickle of energy than shutting down and rebooting for every use. Also, from a user's perspective, the constant trickle of energy means that electronics are ready to use at the flip of a switch, Federle says.
Ribble calculated his estimate of Marquette's phantom load by looking at data from studies released by the U.S. Department of Energy. Ribble says he used measurements of phantom loads in spaces such as residential homes, offices and labs to determine the likely amount of phantom energy at Marquette.
Phantom energy, however, is difficult to measure, Ribble says.
"We would have to go building by building, space by space and plug a watt meter into every device and measure how many watts of electricity are flowing through it when not in use," Ribble says.
Federle says from a mechanical standpoint, new buildings are generally more energy efficient than older ones. Specifically, newer buildings have more energy-efficient ways of heating and cooling. For instance, a newer building's windows are more likely to efficiently trap in heat than an older building's windows.
Ribble says a university-wide project would have to start small. He says Marquette would need to create a sample of the different types of spaces on Marquette's campus (i.e. office space, lab space, residence halls, etc.). A portion of each type of space, perhaps 10 percent says Ribble, would be monitored for phantom power. Once samples are collected Marquette could create plans for the university as a whole.
One easy way for students to reduce their phantom load is to plug clusters of devices into one power strip, Ribble says. When the power strip is turned off, power is cut off from all the devices at once. There are also smart power strips that can be programmed to turn off at certain times or when it senses a device is fully charged, Ribble says.
Ribble adds that in some cases it isn't practical for devices to turn off so readily. For example, lab equipment is often collecting or storing important data, he says, and those working in labs may not want to risk all of their equipment turning off at once. Additionally, appliances like refrigerators need to be turned on at all times.
Decreasing phantom load can also be done at the consumer level, Ribble says.
"When you are shopping for a new television, microwave or whatever it may be, do some research … and try to find ones with the lowest standby power," Ribble says.
On a university level, Ribble says the fundamental questions are the same: Are there electronics that are plugged in that don't need to be, or clusters that can be plugged into a power strip? Are we purchasing energy-efficient devices?
However, unlike individuals, the university can implement policies, Ribble says. Examples he gives include requiring new purchases to consume standby power below a certain amount or requiring all employees to unplug chargers when they leave the office.
Ribble says some of these policies can be difficult to enforce, however, as it could be difficult to monitor something like whether employees actually unplug chargers.
Due to the difficulty in reducing phantom power, efforts may be better spent reducing energy use in general, or switching to renewable energy, Ribble says.
What's one way to save real load? Federle gave the example of a thermostat in a dorm room that fluctuates heat and cool depending on the time of day.
Similar to a fluctuating thermostat, renewable energy is an eco-friendly option to energy consumption.
However, unlike the fluctuating thermostat, renewable energy makes a positive impact by lessening the environmental impact of the energy, not by lessening the amount of energy consumed.
Renewable energy is energy from a naturally replenished source, like wind, solar or hydropower. These sources are virtually inexhaustible, meaning the risk of overexploitation is all but eliminated.
Additionally, renewable sources are cleaner. According to the United States Environmental Protection Agency, when burning fossil fuels such as coal, petroleum and natural gas, greenhouse gases are released into the atmosphere. Greenhouse gases include carbon dioxide, nitrous oxide and methane, which contribute to climate change. GHGs trap heat, increasing air and water temperatures, evaporation and precipitation according to NASA.
A framework proposed by We Energies, Marquette's utility provider, for the sale of renewable energy was signed by the Public Service Commission of Wisconsin Dec. 28, 2018. This framework consists of two programs that would allow commercial or industrial customers to purchase renewable energy.
Marquette spokesperson Chris Stolarski says Marquette has been looking into the We Energies programs.
"We are in the process of evaluating both programs' feasibility and their implications for sustainability," Stolarski says in an email.
Both programs utilize renewable energy certificates (RECs), which allow customers to purchase renewable energy, though the customer might not use that energy onsite directly. Energy from utilities, for example, goes to the same grid as non-renewable energy making it impossible to know whether the energy actually consumed is renewable.
The first program is the Solar Now pilot, which allows customers to install solar panels on rooftops. We Energies pays customers to rent out the roof space for the installation of solar panels. That energy goes to the grid and customers can purchase RECs to integrate it with their own power consumption, We Energies spokesperson Brendan Conway explains.
The second program, Dedicated Renewable Energy Resource pilot, allows customers to purchase a subscription to a Wisconsin-based renewable energy plant. Conway says the subscription helps cover the cost of building large-scale renewable energy projects, such as wind or solar power plants. Similar to the Solar Now pilot, DRER allows customers to purchase RECs from the project.
Conway says these programs allow customers to support renewable energy while avoiding installation costs. While installing its own renewable energy source would allow an organization to ensure the direct use of renewable energy and track how much renewable energy is used, installation and maintenance can be costly.
For now, individual habits have to change in order to reduce
energy consumption.
"I think it boils down to, if you're trying to reduce your impact on the world, how much are you willing to be patient, have less convenience?" Conway says. "It's a trade-off."
Marquette's total energy use increased by 14 percent since 2008 and its total electrical energy use increased by 13 percent, according to data collected and monitored by Ribble through Facilities Planning and Management. Ribble says this is impressively low given the growth of Marquette's campus. When accounting for the physical growth of campus, Marquette's energy consumption increased by only 1 percent, the data shows.
Five to 10 percent of total energy use is a small but not insignificant amount of phantom energy, Ribble says.
Federle says there are ways to save money by limiting phantom load use, but saving money comes at a different cost. This is because saving money by unplugging electronics would require a behavioral shift as opposed to a technological one. Until we're ready to sacrifice the convenience of electronics available at the flick of a switch, it's unlikely that we'll reduce our phantom load, Federle says.