Community members, students show up to support faculty and graduate students at rally
Beneath a cloudy sky Friday afternoon, a group composed largely of Marquette University non-tenure faculty and graduate student workers rallied at the Father Marquette statue near Raynor Library, shouting in unison, "Hey hey! Ho ho! Short term contracts got to go!"
The group gathered to ask university administration for a fair process to form a union. They were joined by members of the Marquette and Milwaukee community for support.
"This came about through basic conversations from non-tenure-track faculty and grad students. Grad students lost their access to health care three years ago," Sam Harshner, an adjunct instructor in the College of Arts & Sciences, said. 
Harshner said non-tenure faculty and graduate students have been trying to form a union on their own so there can be better pay, job security and health care benefits for non-tenure faculty and graduate students at Marquette.
"We've been working for the past six to seven months in getting support and we have majority of support from most graduate students and non-tenure faculty," Harshner said. 
Faculty Forward, part of Service International Employee Union, supported the rally. SEIU has 57,000 faculty and graduate student workers on 60 campuses who have joined the Faculty Forward movement and formed unions, according to its website.
SEIU declined to provide a public comment regarding their efforts at Marquette.
Several non-tenure faculty gave speeches at the Father Marquette statue. Harshner welcomed the group, and said he was there Friday because he was deeply moved by the stories of faculty that show life outside of the non-tenure track.
"To be honest, I'm here because I love my job," Harshner said at the rally. "Teaching and learning from the incredible young people I'm in charge of instructing here at Marquette is the most rewarding, professional experience I can imagine. And I stand here today protecting the things that make Marquette University great."
Harshner said non-tenure faculty and graduate students have greater workloads, administrative obligations and research obligations than tenure faculty. 
"It affects our students who feel our anxiety and distraction, and we know that sometimes we are forced to focus more on how we are going to pay our rent next September than how we can help their arguments on their final research papers," Harshner said. 
Harshner said the rally's purpose was to push back the "destructive race to the bottom" and to reiterate the "crazy notion" that education is the primary purpose of the university.
"We demand that the workers who provide that education are both respected and admirably compensated," Harshner said.
Harshner said the rally was to assert the radical notion that workers can serve not only the full value of their labor, but have the security of knowing where their next paycheck will come from, livable wages and quality health care for graduate students. 
"This is a Jesuit university that really wants to live its values, who does so in its community in so many ways," Sue Giaimo, an adjunct associate professor in the College of Arts & Sciences, said at the rally. "And yet, right under its own nose, there's this major inequity that we have to address. Let's remember, workers have a right to form their own union."
Giaimo said graduate students and adjuncts would like the university to provide them with health insurance benefits and have the same level of job security as tenure faculty.
"Right now, they are either paid by the course or get a contract lasting a semester or a year.  These conditions cause enormous insecurity among NTTs (non-tenure-track) and grad student researchers," Giaimo said in an email.
Additionally, Giaimo said non-tenure-track faculty want reasonable pay.
"Many adjuncts are paid by the course and it is quite low," Giaimo said in an email. "Those NTTs who have a yearly contract are paid salary, but it is still well below that of tenure track faculty.  We believe that the University should value teaching as well as research contributions from all faculty."
Carly Ogletree, a senior in the College of Arts & Sciences, attended the rally to support the faculty and graduate students.
"When adjuncts have to work at two or three universities to make ends meet, it mitigates the educational experience that we can all have because they're completely stretched," Ogletree said. "As people who have dedicated their lives to education, they deserve much better than what Marquette is giving them."
Ogletree said she believes Marquette has an obligation to be fair and unbiased in this matter and to let the non-tenure faculty and graduate students decide if they would like to unionize.
"We care about our professors. We care about our grad students. They deserve the right to health care and to live. They shouldn't have to struggle," Mary Claire Burkhardt, a junior in the College of Education, who attended the rally in support, said. "They are providing us with so much education that is going to do good for the world, why wouldn't we care for them, too?"
The rally then moved to Zilber Hall to attempt to present signatures of non-tenure faculty, graduate students, resident assistants and teaching assistants announcing their respective intentions to form a union.
Upon arrival, participants were locked out of the building and Marquette University Police Department guarded the doors.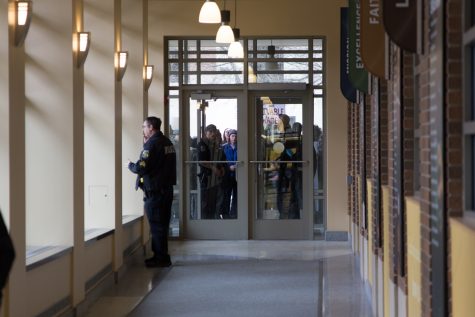 "I'm a little bit dismayed that the university is not allowing us to get in the doors," Robert Riordan, a graduate teaching assistant in the College of Arts & Sciences, said. Riordan participated in the rally and went to Zilber Hall.
"Before I came here, I taught as a non-tenure-track faculty at a University of Wisconsin college, and all of us have multiple extra jobs and it's horrible," Riordan said. "It degrades the quality of education students can get."
Moments later, Acting Provost Kimo Ah Yun approached the crowd. Ah Yun said he has been talking about the matter to the University Academic Senate, a committee that discusses immediate academic and professional importance upon collective experience of faculty.
"(University Academic Senate) supports the faculty. We've been talking about putting a statement out on Monday, driven by faculty, to say that both faculty, non-tenure and tenure, and administrators, should remain impartial in this process," Ah Yun said.
At the University Academic Senate meeting Monday, the statement was tabled to its next meeting May 6.
When asked if there would be a fair process, Ah Yun said, "We will work with everyone."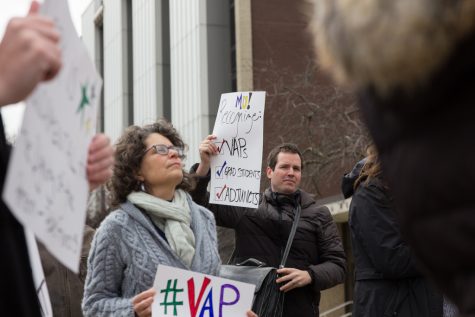 "They granted us neutrality, meaning they will not fight us anymore on our unionization efforts," Harshner said after Ah Yun spoke. "So we will be going forward in the fair process to formalize a non-tenure-track and grad student medium."
Ah Yun said Marquette's Catholic, Jesuit mission has been central to the university since its founding in 1881, providing foundation and guidance as an institution of higher education.
Ah Yun said Marquette's current operating model of utilizing a mix of tenure-track and non-tenure-track faculty helps control costs, maintain flexibility and offer students unique perspectives, while ensuring Marquette is providing the highest-quality education at a price that is competitive with peer universities.
"All faculty, including non-tenure-track faculty, have multiple in-person, online and anonymous avenues to share input or concerns with senior leadership," Ah Yun said in an email.
Ah Yun said the president and provost host an annual faculty forum where faculty can share input and questions. Additionally, faculty can turn to Marquette's Office of the Ombuds, a confidential, impartial, independent resource for all faculty and staff, as well as the University Academic Senate's subcommittee on part-time faculty that provides a forum for discussing and addressing matters of particular concern to part-time faculty. Marquette employees, including non-tenure-track faculty, can share their input in the campus-wide online employee engagement survey, where the results are shared with senior leadership anonymously and in aggregate.
Tom Hasenberg, a lecturer in the College of Arts & Sciences, said some of his colleagues reached out to SEIU originally because they were not happy with the working conditions and the university's responses to their needs.
Hasenberg said SEIU has demonstrated success in building graduate worker and non-tenure-track unions in other similar institutions like Fordham University, the University of Chicago and Loyola University Chicago.
"We are educators — not organizers — and we did not have the expertise or knowledge to feel confident building a union for hundreds of underpaid and overworked people in the Marquette community all by ourselves," Hasenberg said in an email. "SEIU helped us learn how to build our community so that we could work together for the common good in a new way."
Brittany Pladek, an assistant professor in the College of Arts & Sciences, attended the rally in support of non-tenure faculty and graduate students' efforts to unionize at Marquette. She was part of the crowd that went to Zilber Hall.
She said that as a Jesuit school that cares for its people and adheres to the principles of "cura personalis", Marquette owes its workers a living wage and contracts more than a couple of weeks in advance.
"That is simply the caring, Jesuit, Christian thing to do," Pladek said. "Marquette as an institution that is going to believe in its values and embodies them, owes the non-tenure-track faculty and graduate students the right to an unmolested unionization process and a fair bargaining once they form a union."  
Kay Mann, a Milwaukee citizen and visiting assistant professor at Miami University in Ohio, came to Marquette for the rally to show their support of non-faculty and graduate students forming a union at Marquette.
"I think they certainly deserve a fair shake, like every worker and every employee," Mann said. "They're making great contributions to a university that has a huge endowment and certainly can afford to treat its family in a fair, decent, dignified matter. That's why I am here: to show solidarity."
Leave a Comment